Your wedding day is approaching, and you want to show your appreciation to the wonderful women standing by your side. Your bridesmaids have been there through thick and thin, offering support and friendship. Now it's time to find the perfect gift that will make them feel cherished, loved, and remembered for years to come. Look no further, as we have curated a list of 10 unique bridesmaid gift ideas that will make your wedding day extra special. From personalized jewelry to custom-made keepsakes, these unforgettable tokens of friendship will not only express your gratitude but also serve as a beautiful reminder of the bond you share with your bridesmaids. Whether you're looking for something sentimental or trendy, our gift ideas cater to all tastes and budgets. So, why settle for generic gifts when you can create lasting memories with these carefully chosen presents? Show your appreciation and make your bridesmaids feel truly special with these unique gifts that will have them saying, "I do" to your friendship all over again.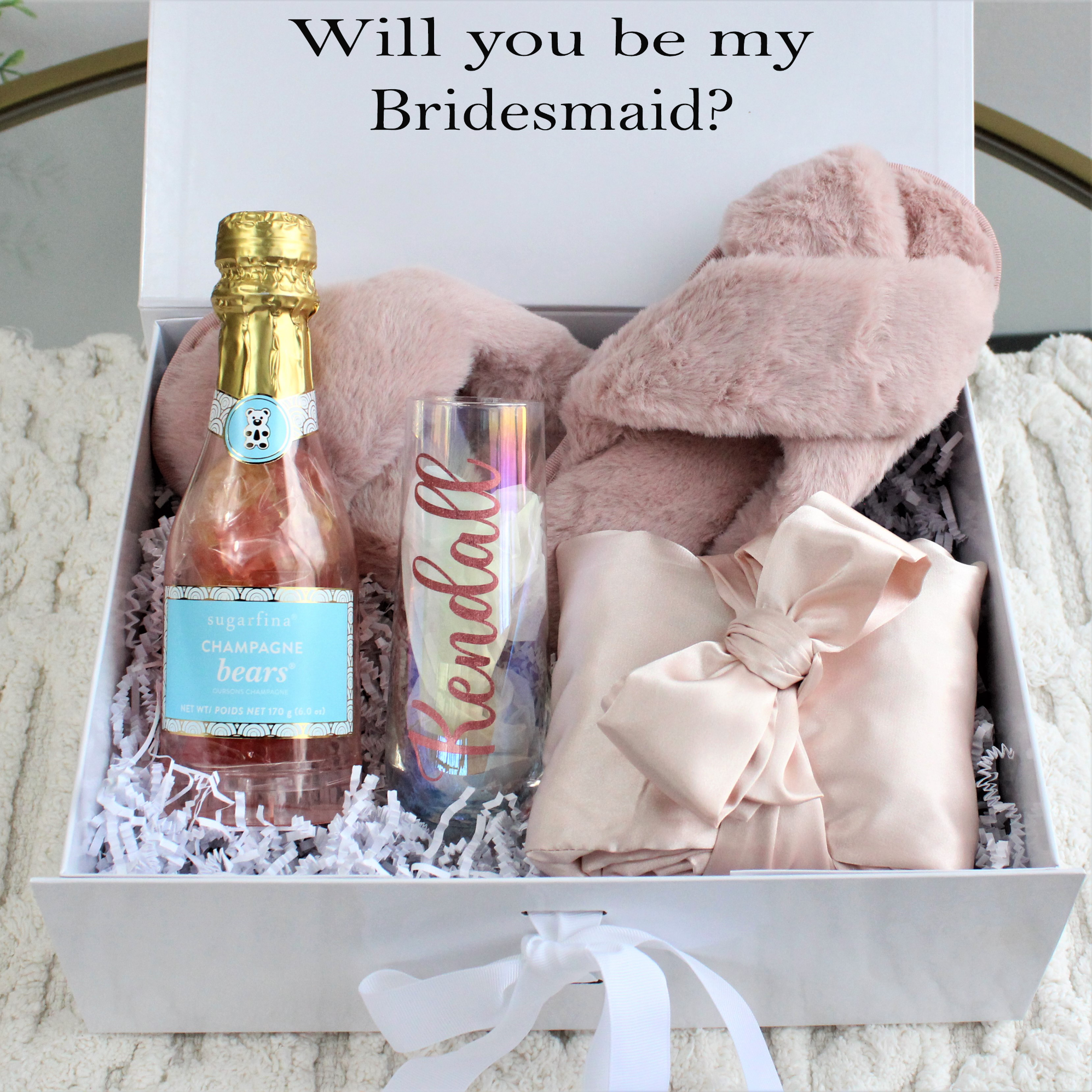 Pop the cork, it's time for a toast! Filled with bubbly champagne bear treats, this box has everything but the Fizz. This sweet bridal party gift set includes fluffly slippers than can be personalized and perfect for the morning of the wedding, a soft saftin robe availabe in several colors, and stunning irridecsent champagne glass and delicous gummy bear treats.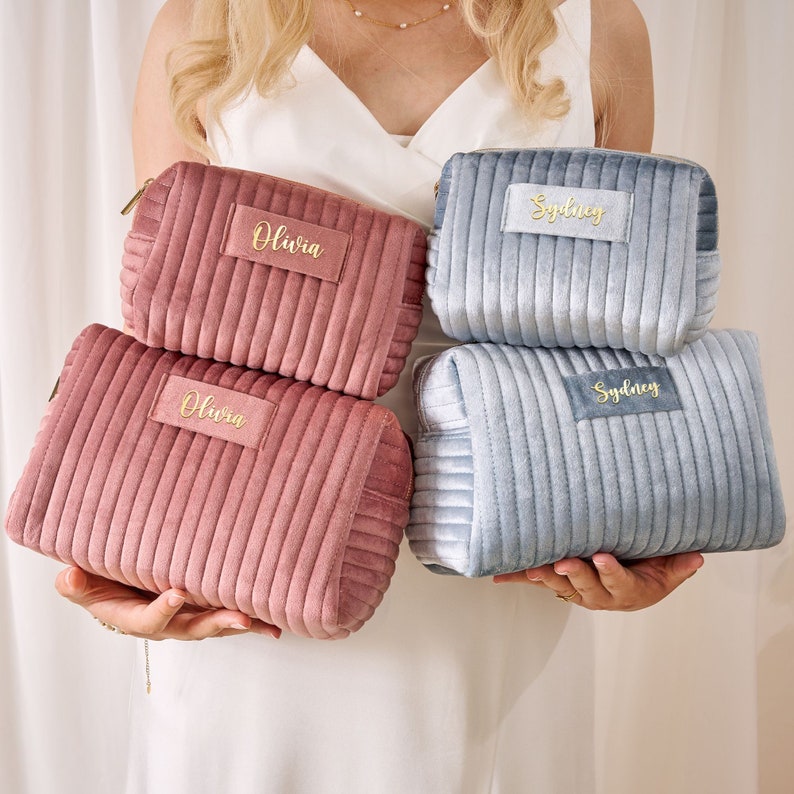 Have her Indulge in the elegance of velvet with exquisite makeup bag & toiletry bag.  These are a cute gift for women, It's a practical and memorable gift for them. Handcrafted with care and precision, this bag will serve as luxurious home for all her beauty essentials. Monogrammed with her name and fill each bag with your bridesmaids favorite beauty products.  

In today's brand-obsessed world, it's essential to find the right gift that embodies your unique style and appreciation for your favorite ladies. t's stylish, practical, and holds a touch of sentimentality. The cosmetic bag is not only spacious enough to hold all their beauty essentials, but its elegant design will make them feel like the glam squad they truly are. And the water bottle? It's not just any ordinary water bottle; it's a statement piece that they'll love showing off at the gym or on their desk.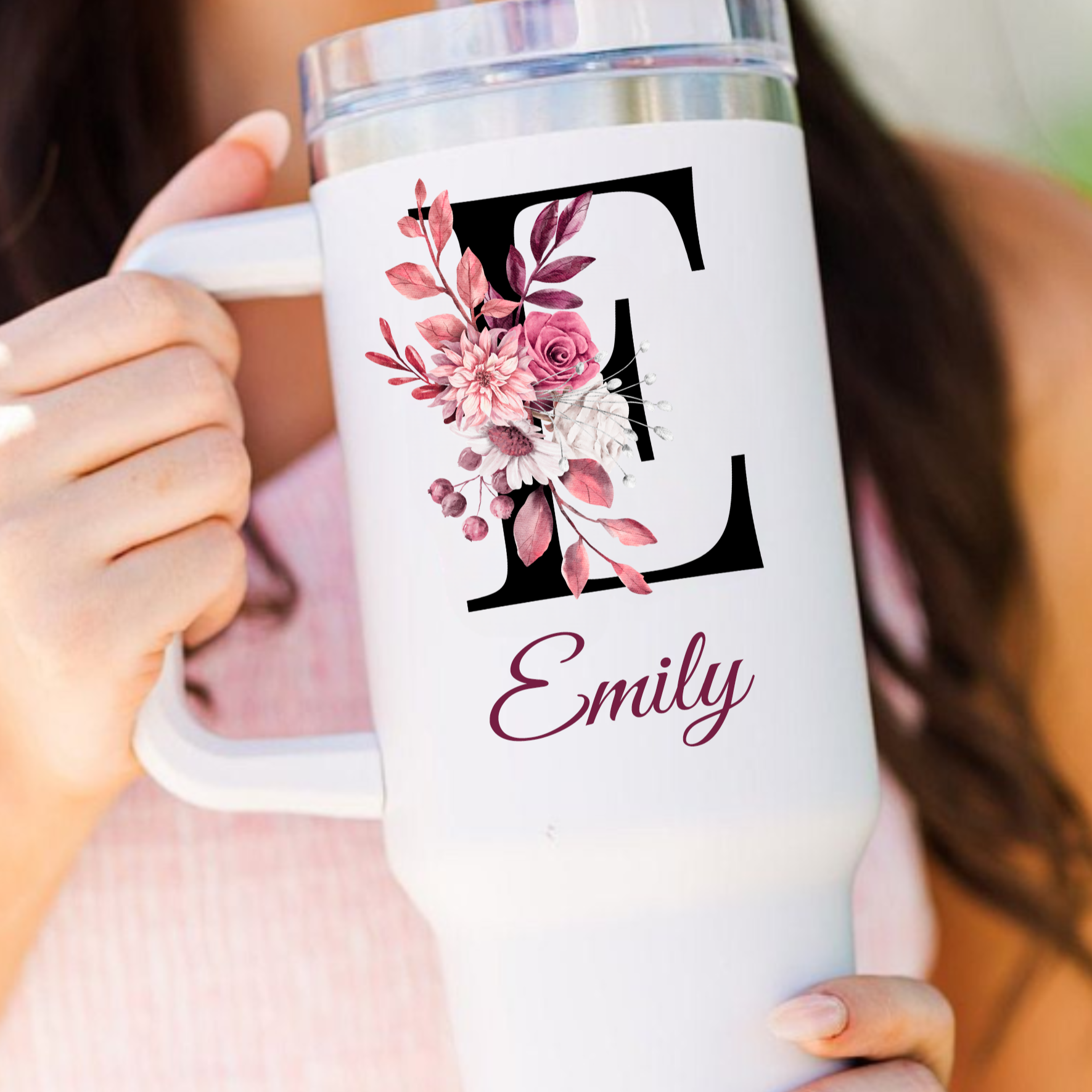 Give your friends and bridal party a gift that will last as long as your friendship with this eye-catching tumbler which is double-walled, and vacuum-insulated. That means her drink will stay warm or cold for 12 or more hours at a time. This tumbler is the PERFECT cup for summertime, and also the PERFECT cup for winter when you want to keep your coffee piping hot.The Tumblers ca n be personalized with a name and wedding role. 
Not only will you spoil her with something sweet, but this is also a delicous way to propose to your bridesmaids! These Macarons are handmade and she will receive 3 pink and 2 ivory caramel.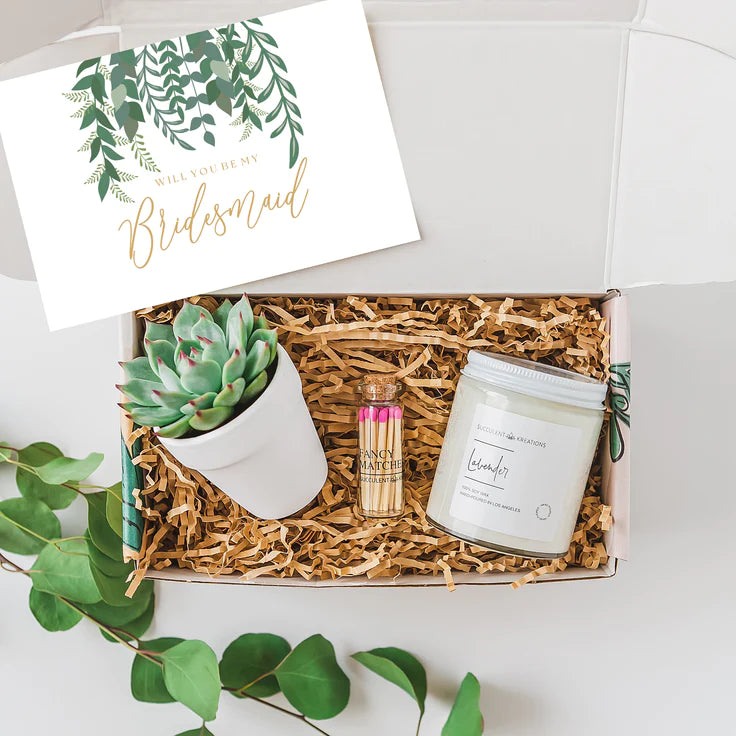 Ask your favorite girls to stand by your side as you marry the man of your dreams with this unique gift box that will put a little nature on her desk. No girl will be able to resist this proposal as you give her something she will appreciate and love looking at. You will have tears and yes' all around. Each box comes with a succulent, a hand-poured soy candle, and a jar of matches. All with a personalized note so you can let her know how much she means to you. Choose a scent to suit her personality and you have one great gift.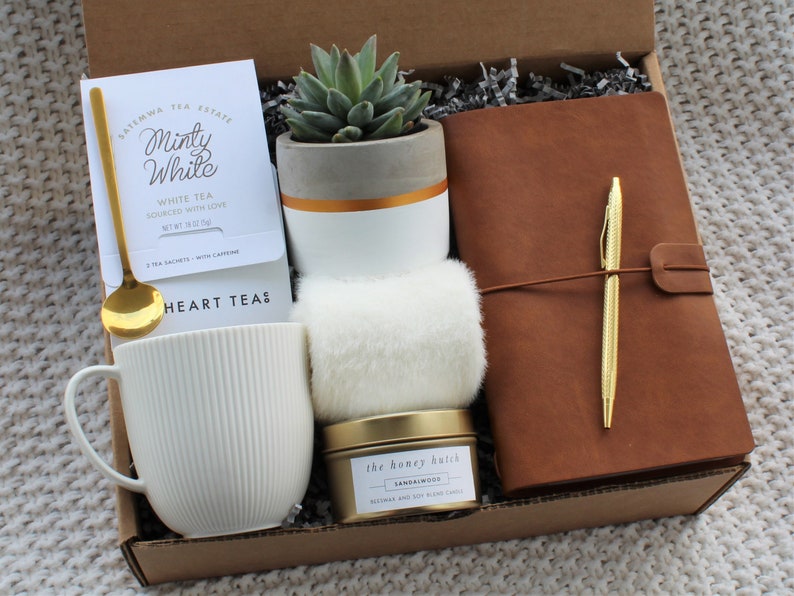 Her her find  her Zen! This gift set with all it's items will bring joy and relaxation to your bridesmaids. Let them jot down their thoughts and dreams in the journal, unwind with a cup of our exclusive tea blend, set the mood with the aromatic candle, and add a touch of nature to their surroundings with a lovely succulent plant. Whether your bridesmaids enjoy indulging in self-care or finding solace in nature, this gift set offers a little something for everyone. It's the perfect way to express your gratitude and create a lasting memory of your special day.
She will surely look glowing because of quality sleep the night before, thanks to this super comfy and stylish sleepwear. These Bridal party sleep shirts are must-have items for a truly memorable occasion. 
This boho-inspired gift set is the perfect way to show your appreciation to your bridesmaids. Each set includes a comfortable and stylish sleepshirt, a matching tumbler for their favorite beverages, cozy slippers, and a large white sturdy box for presentation. 
 The bridal sleepshirts feature a white or black trim design and are made from soft and breathable fabric for a comfortable night's sleep. The mason jar tumbler is insulated to keep drinks hot or cold and has a lid to prevent spills. The slippers are plush and warm, perfect for lounging around the house and getting ready the morning of the wedding. The set comes beautifully packaged in a large white sturdy box, ready to be gifted to your bridesmaids and bridal party. .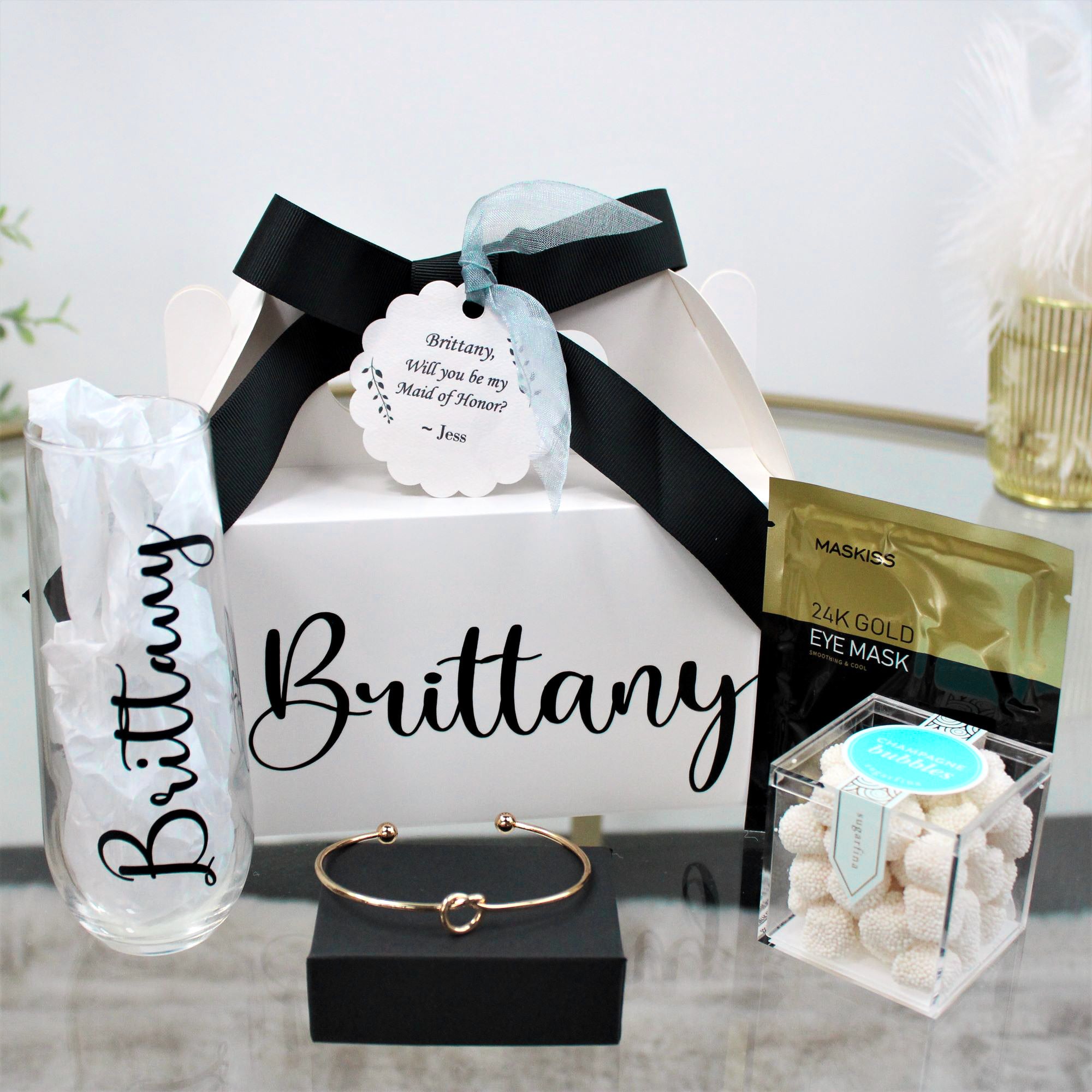 This Fun and Unique Bridesmaid Gift Set Covers all the Grounds! Relaxation (check), Bridal Toasting (check), Wedding day accessory (check), and sweet tooth craving (check)!  Plus you can include your own little message. Featuring luxurious sugarfina champagne bubble candy, a trendy tie the knot bracelet symbolizing your eternal bond,an elegant champagne flute for toasting to your love, and 24K gold eye mask,  this gift set is sure to bring joy and delight to your bridesmaids. Whether you're looking for a thoughtful thank you gift or a special something to make your bridesmaids feel extra special, this set will do just that without breaking the bank!