When planning a wedding, there are lots of moving parts — from organizing caterers to picking out the perfect photographer to capture your big day— but finding practical and affordable wedding favors that won't be left on the table, or eaten quickly and forgotten can be tricky. We'd argue that a classic bottle opener is one of the best gifts you can give your guest.
Give your guests a practical and stylish gift with these 10 bottle opener wedding favors. They'll appreciate the thoughtfulness and usefulness!
Below, we've curated the top 15 bottle openers
Your wedding would not be complete without this Gold Love Bottle Opener. Let this wedding favor which comes complete with a decorative kraft gift tag with a delicate doily design and "LOVE" printed in white, adorn your table setting. Set it beside the wine your guests would take home and they would happily bring home this lovely wedding favor. Personalize with your names. The personalized labels will be delivered on a sheet for you to easily apply.
This heart shaped bottle opener magnet can be very versatile and  useful because they can be applied to open bottles of beer, soda, or other beverages with lids as well as decorations and mementos at events  such as weddings, anniversaries, and  bridal showers, which will leave your guests and you with an unforgettable memory! 
The Flip Flop Bottle Openers are perfect for a summer or destination wedding.  These engraved flip flop bottle openers can be personalized any way  you'd like them.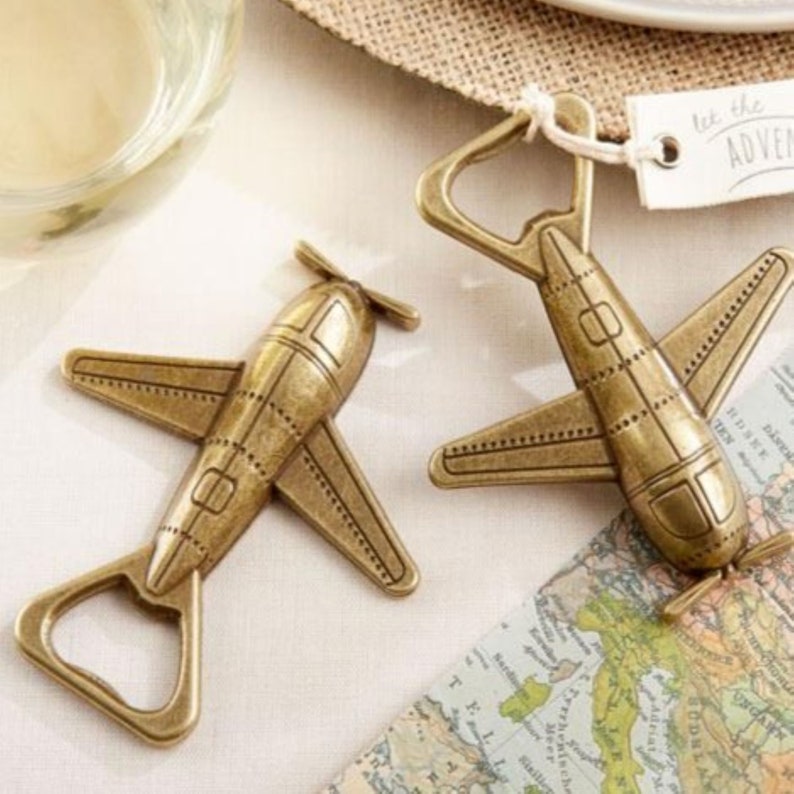 Get ready to soar on an adventure of a lifetime! Capture the magic of each moment with our enchanting "Let the Adventure Begin" Airplane Bottle Opener. Its exquisite vintage antique bronze finish and adorable airplane design will steal your heart
Weddings, anniversary parties, and family reunions have found a welcoming venue on cruise ships, and we has a popular party favor perfect for celebrations in ocean-going paradise--or a beach-themed event!.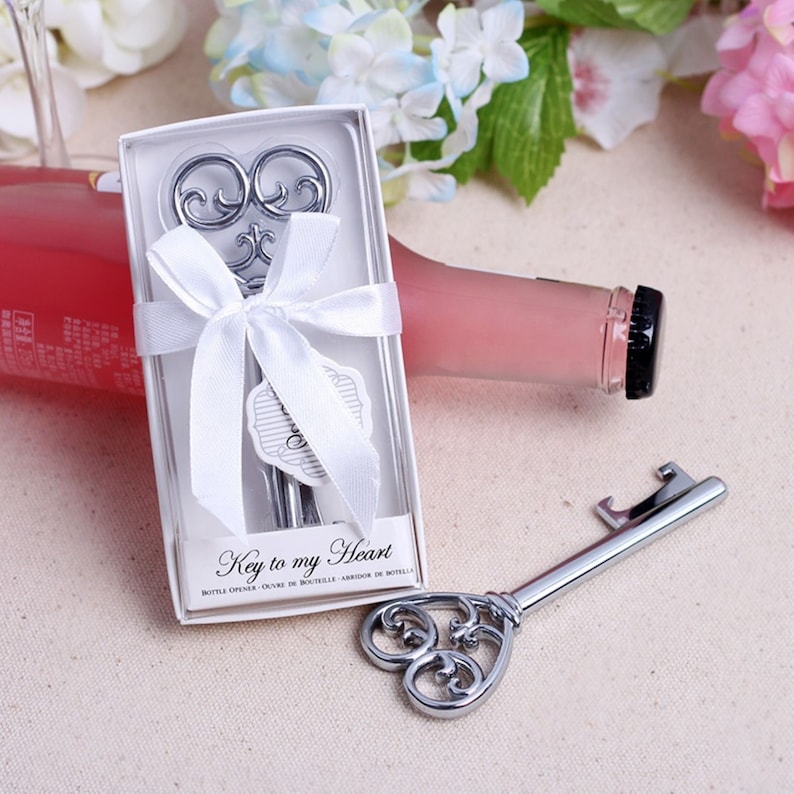 Open the door to a charming, romantic wedding with the turn of this Victorian-inspired key! The design beautifully disguises its use as a bottle opener, and your guests will recall your romance every time they pop a top!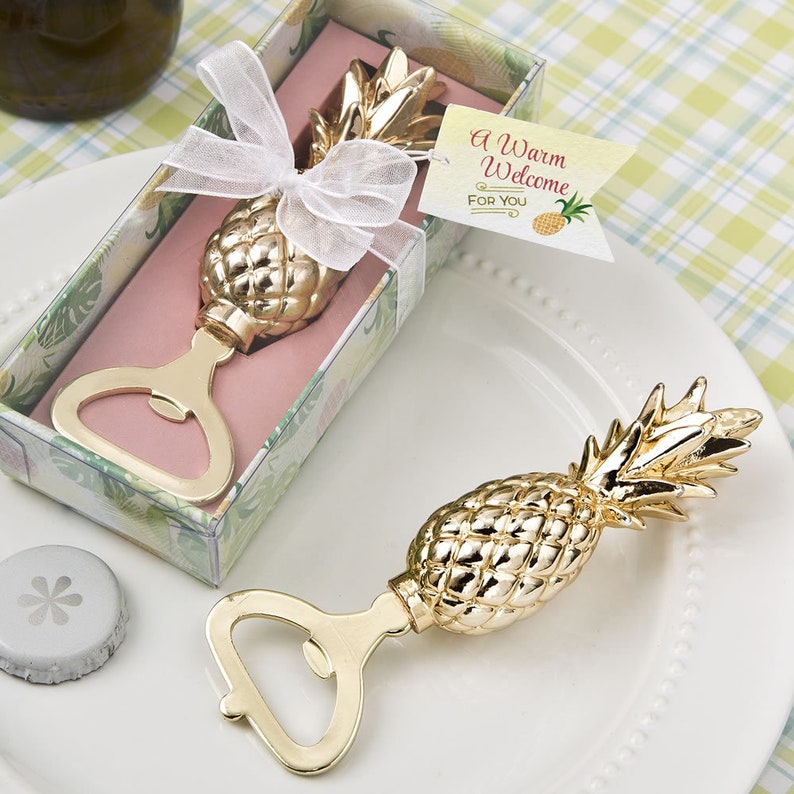 The pineapple has long been a symbol of hospitality, friendship, and warmth. Bring this tradition to your wedding reception with this charming pineapple bottle opener. Crafted from durable poly resin, this 3D pineapple replica is plated in shiny gold for a luxurious touch. The bottle opener itself is made from sturdy gold metal, with an easy-to-use opening on the end for stylish and graceful bottle opening.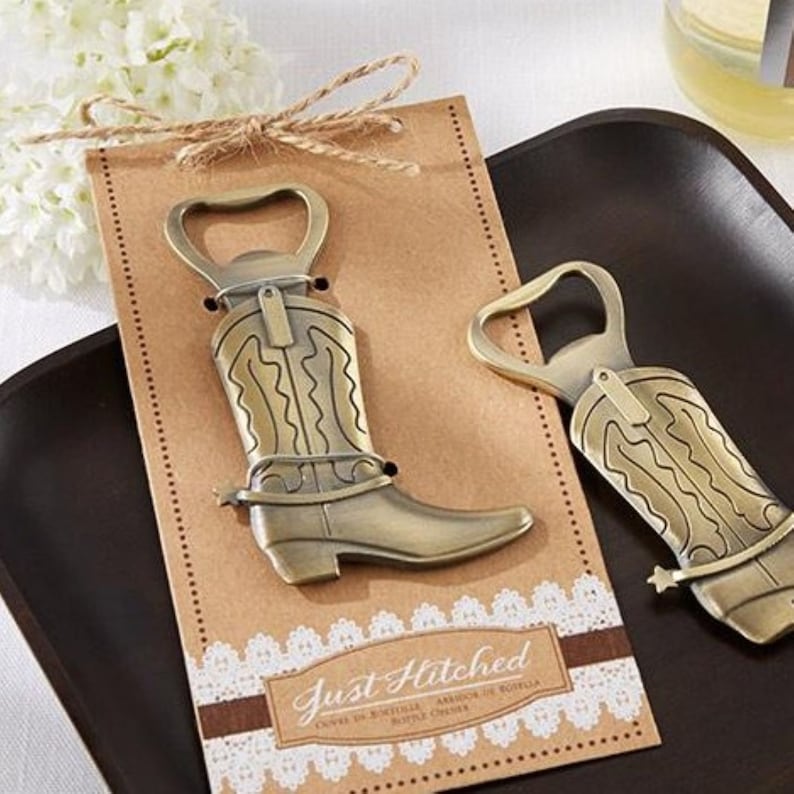 Heck ya, you're excited to have just gotten hitched. Share that excitement with your guests with this fun wedding favor bottle opener shaped like a cowboy boot. This bottle opener comes with the "Just Hitched" display card. Choose from one of our nine designs to personalize your wedding favors. The personalized labels will be delivered in a sheet for you to easily apply.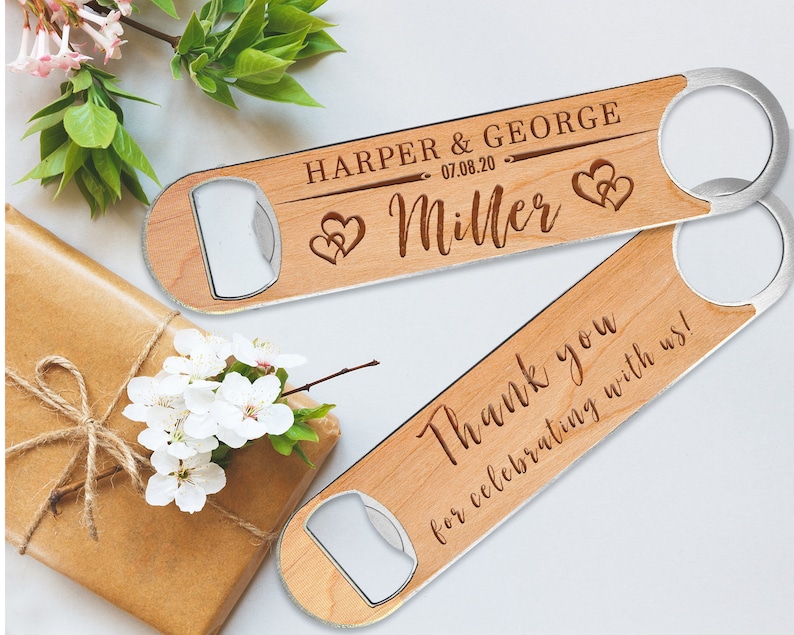 Introducing an exquisite bottle opener, featuring a wooden veneer on top of a durable metal base. This high-quality item can be personalized using laser engraving, making it a perfect gift choice for weddings, birthdays, company promotions, introductions, engagements, and New Year celebrations. It embodies elegance and functionality, allowing your guests to enjoy personalized mementos they can cherish for years to come.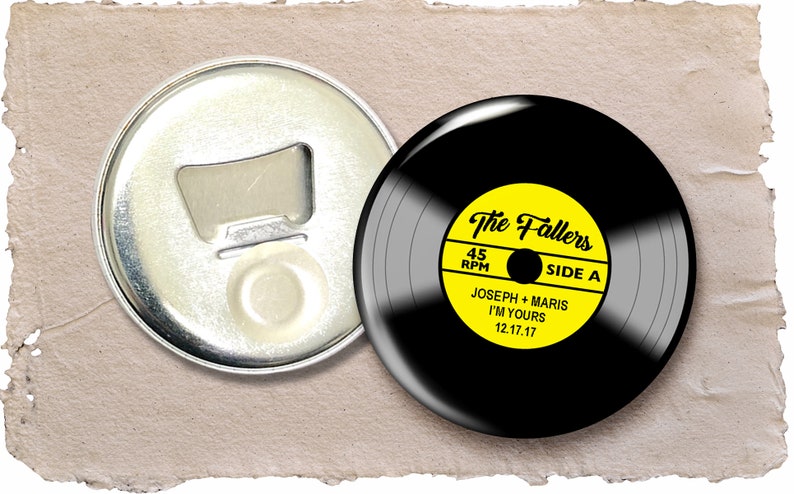 Tired of your guest throwing favors away after the reception?  We guarantee this won't happen with these retro vinyl bottle and  magnet openers.  Next time your guest crack open a cold one, they'll put their favorite record on to get in the swing of things. Don't get yourself in a spin with this classic bottle openers.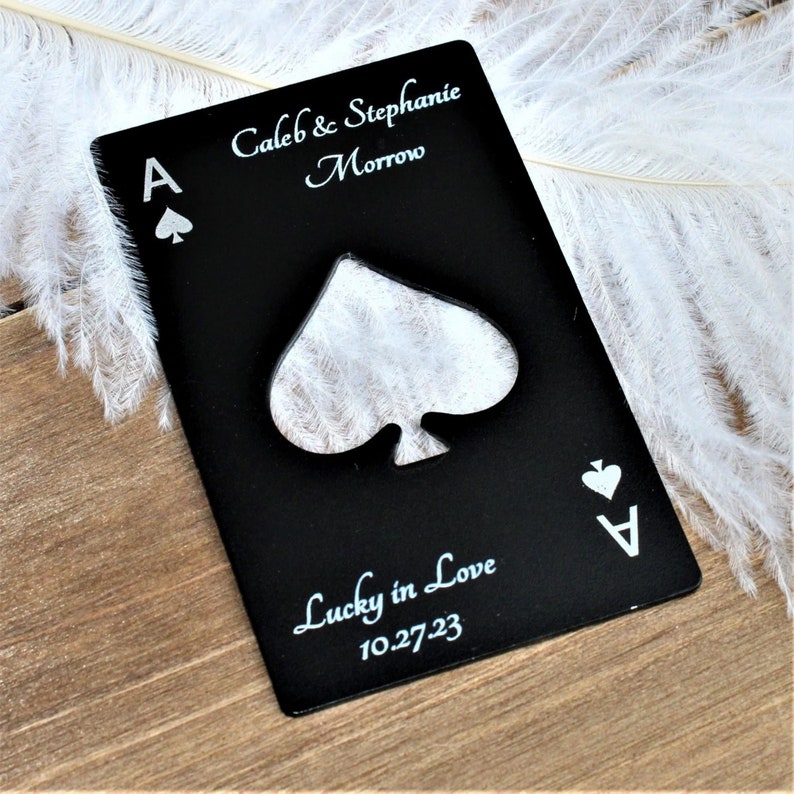 Crafted from durable stainless steel, these bottle openers feature a sleek matte black finish and a distinctive spade-shaped opener. Not only do they add a touch of sophistication, but they also boast a convenient size that fits perfectly in your wallet. Not only do they serve as practical keepsakes, but they also radiate with uniqueness and personal flair, making a statement that speaks volumes about your love story.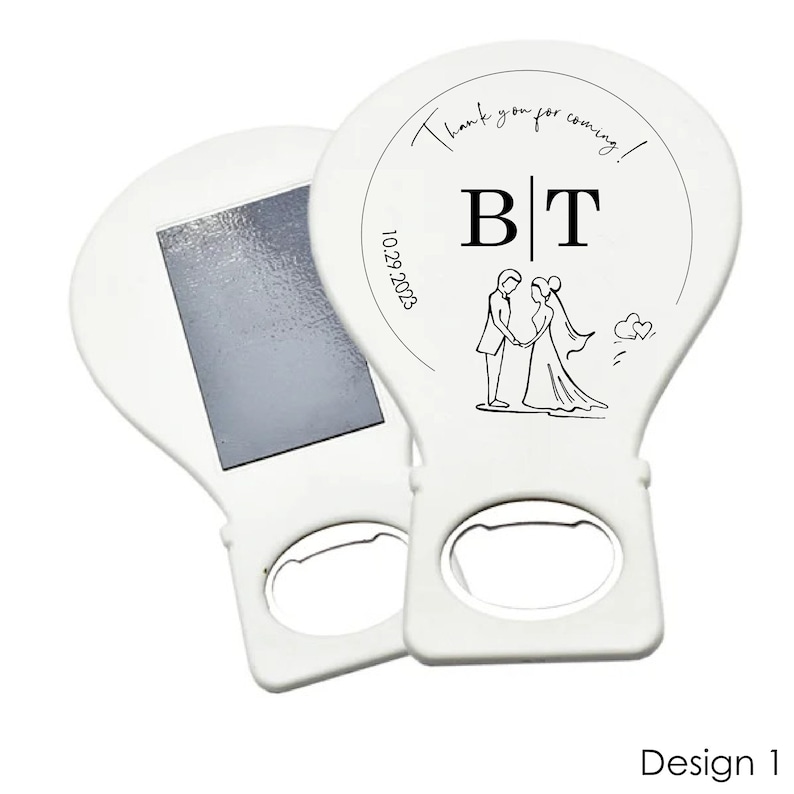 These Wedding Magnet favors make a unique favor for your loved ones. One of the advantages of wedding magnets  being used by guests is they will remain on the fridge as a reminder of you wedding and they will never lose there bottle opener!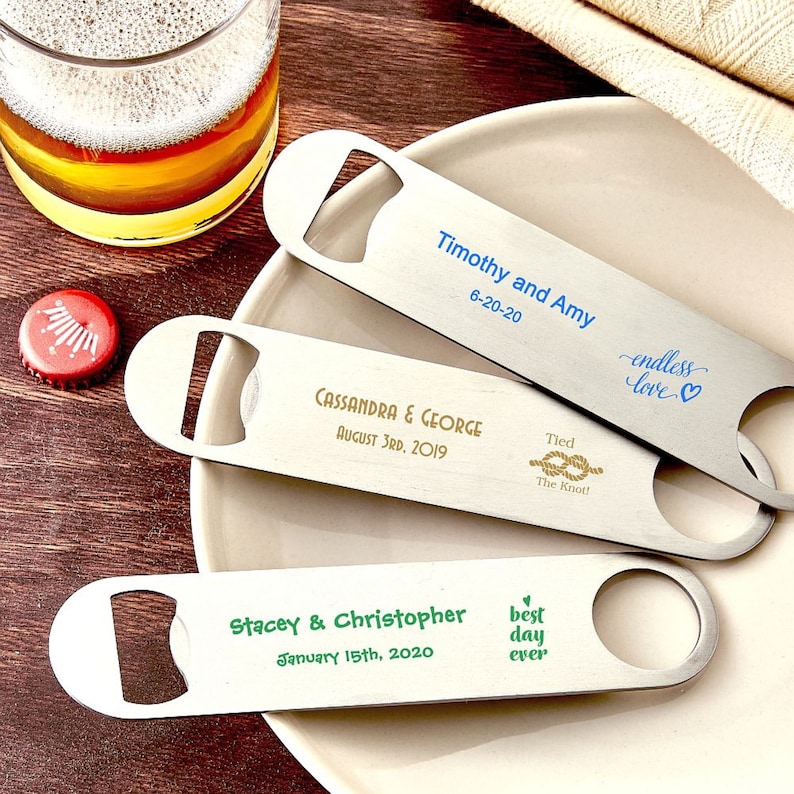 Add a stylish finish to your event tables and offer guests a functional wedding favor with these professional bartender bottle openers. They make great giveaways for any event. This bartender bottle opener is made of sturdy Stainless Steel. It has a flat and simple design that enables the user to open beer bottles really fast. A must-have tool for most bartenders who need a professional bottle opener that they can keep in their back pocket.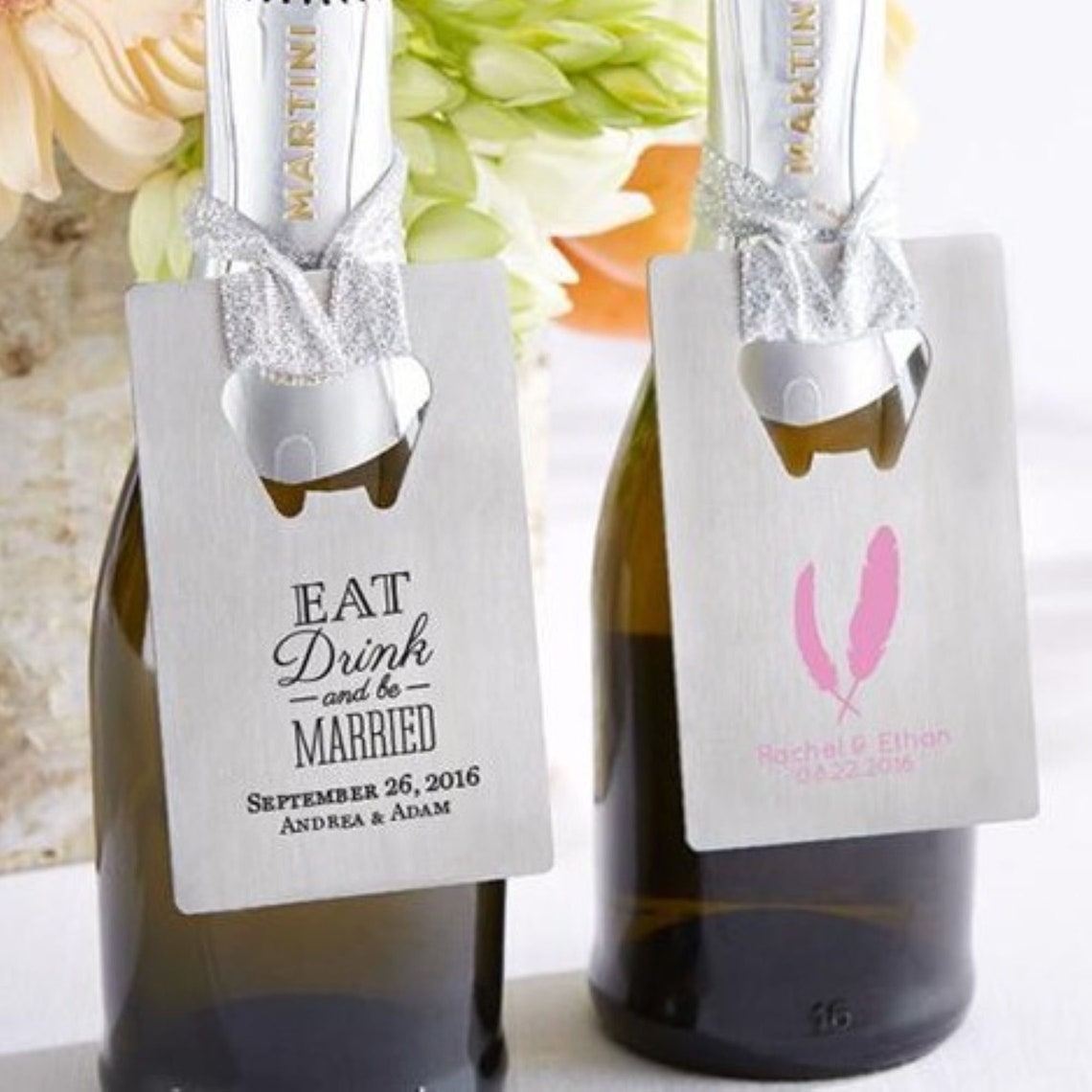 Silvery wishes and a drink that's delicious! Come together in these Personalized Credit Card Bottle Openers, available customized with your names or wedding details. Give to loved ones as a fun and functional wedding favor that they will use again and again.

It is designed with a functional rectangular shape to give you a better grip. You can use your design for a more personalized touch.