Saying "thank you" is a small gesture that can leave a lasting impression. And when it comes to your wedding, showing appreciation to those who have played a special role in your big day is essential. Among these cherished individuals is your flower girl, the adorable little one who stole hearts as she walked down the aisle, sprinkling petals with her tiny hands. Now, it's time to express your gratitude and make her feel extra special with the perfect thank you gift. But with so many options out there, where do you even begin? Fear not, because we've got you covered. In this ultimate guide, we'll take you on a journey through a curated selection of thoughtful and age-appropriate thank you gifts for your flower girl. From personalized jewelry to cute keepsakes, we'll help you find the perfect token of appreciation that will make her smile and cherish the memories of your magical day forever. Here is a list of some of our favoriite thank you flower girl gifts.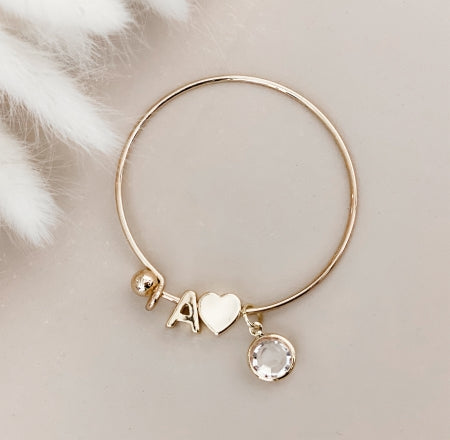 Personalized jewelry is a beautiful and meaningful gift that your flower girl will cherish for years to come. Consider getting her a necklace or bracelet with her name or initials engraved on it. You can also choose a piece of jewelry that symbolizes your special bond, such as a heart pendant or a charm bracelet with meaningful charms. Personalized jewelry is a thoughtful way to show your appreciation and make your flower girl feel special on your wedding day.This 18k plated gold Flower Girl Bracelet comes with a personalized monogram initial, heart charm, and a glitzy gem that is sure to add elegance in her wrist and style to her outfit.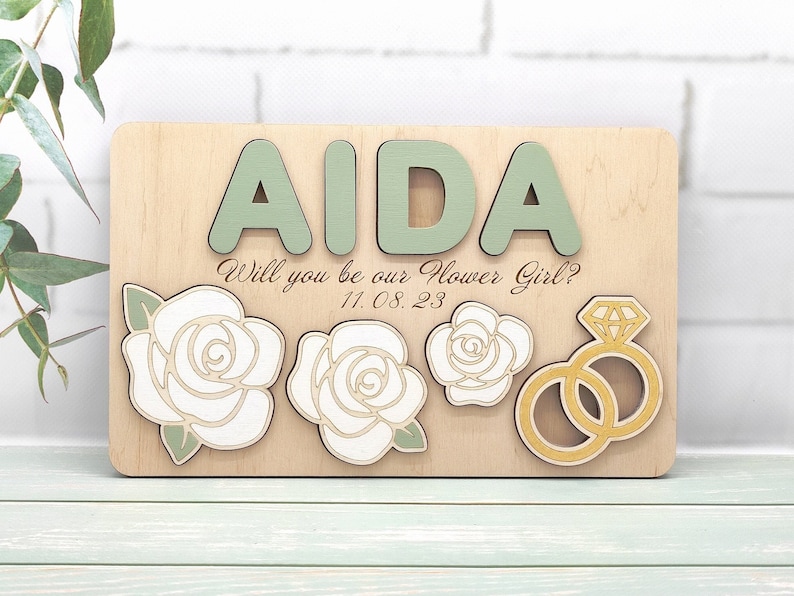 If you are looking for a creative way to Thank your Flower Girl, this customizable puzzle is ideal for the youngest member of your bridal party.   All the puzzle pieces are easy to take out and play with because they protrude above the board surface. Elements don't have sharp corners, so they are safe for the baby to play with.
 

Personalized Teddy Bears make the *cutest* gift for your flower girl or ring bearer. Perfect for a flower girl or ring bearer proposal or thank you gift. Each adorable teddy bear comes with a personalized shirt - get his/her name printed on it and add a title if you wish. Complete the gift set by adding a white gift box for an additional charge.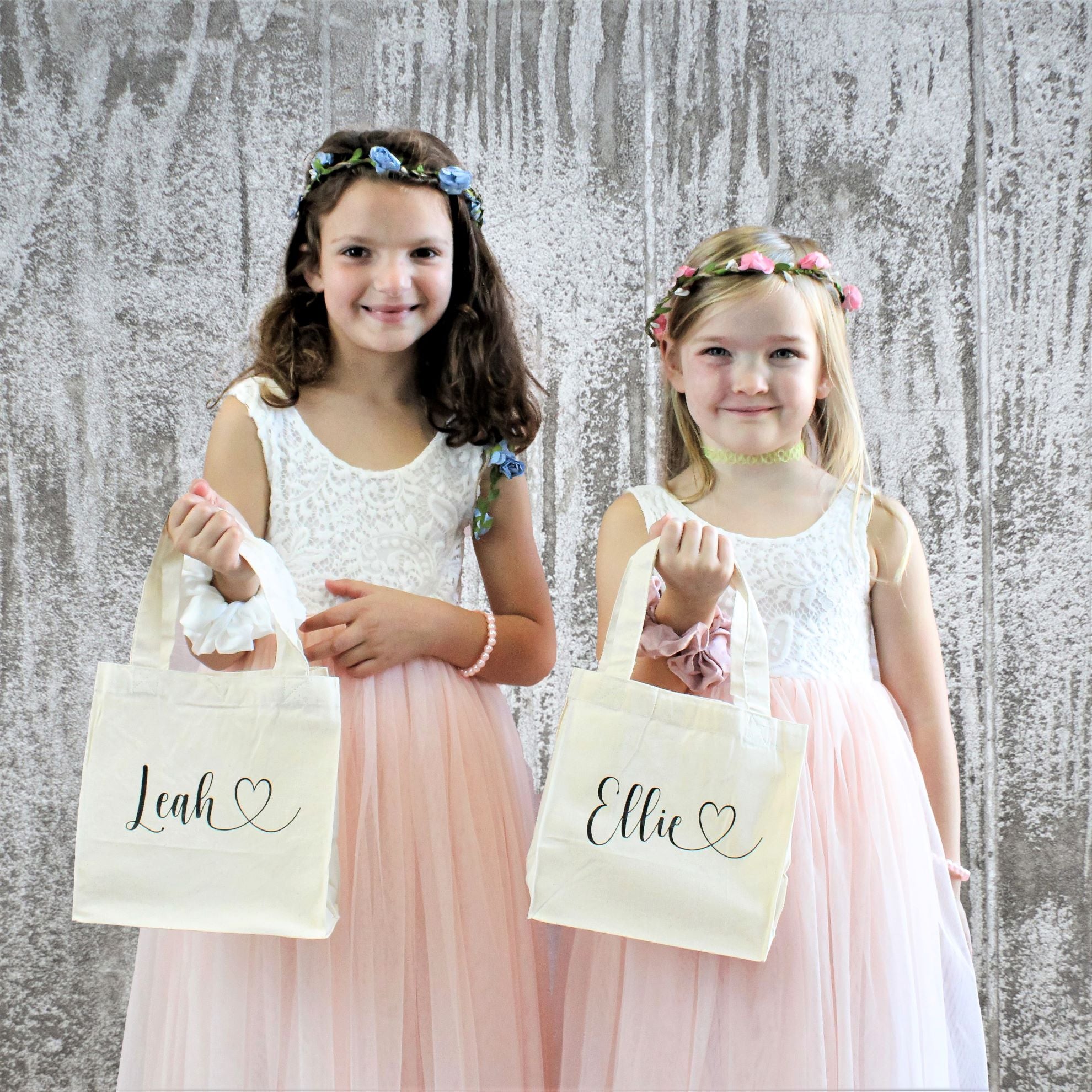 Flower girls will adore carring around their little tote bags and they can be filled with some of their favorite things. These cotton tote bags can be used as wedding favors and filled with items that little girls will enjoy.  We offer a variety of font colors.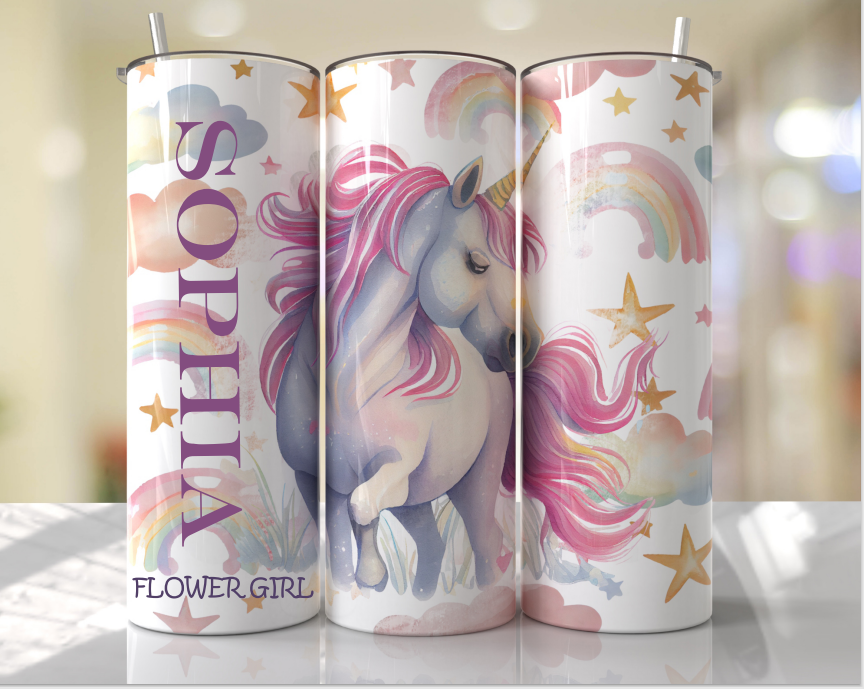 Even the littlest members of the Bridal party deserve to be recognized and thanked! Gift your flower girl an adorable customized unicorn tumbler, because everything is better with a unicorn!  This tumbler can be customized any way you'd like!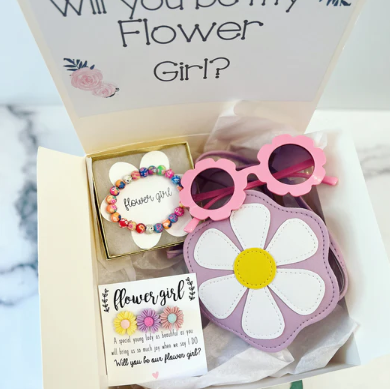 This Flower Girl Floral Box is the perfect way to ask your Flower Girl to be a part of your big day or as a gift to thank her on your wedding day! 
Large box comes in white and will have name label on the outside with the bracelet, hair clip, purse & sunglasses inside!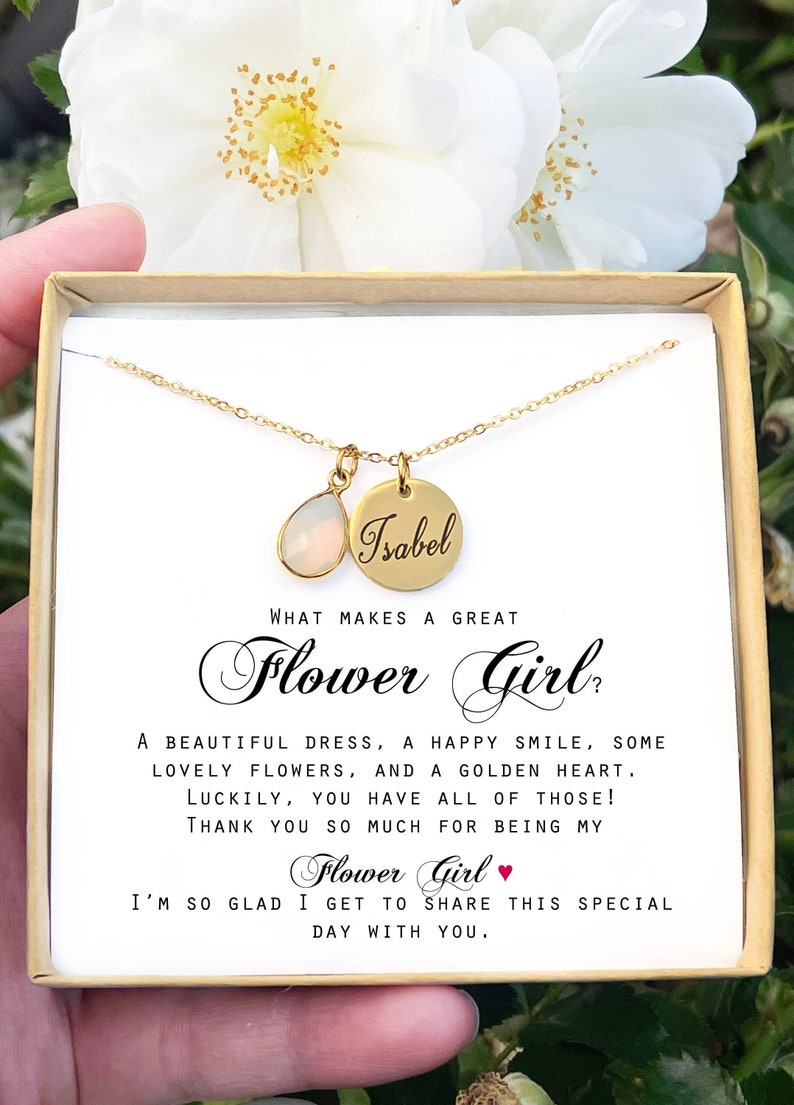 This necklace gift features a unique birthstone gem and her na me engraved on a beautiful pendant. This gift includes a personalized note in the gift box color of your choice. Add your personalization to the text box above. Your flower girl will wear this necklace at the wedding and for years to come while thinking of how special you made her feel on your big day.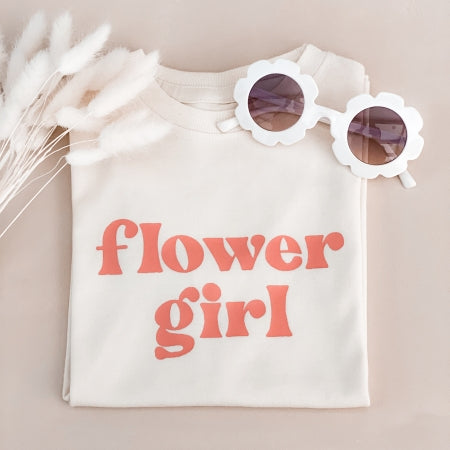 Made of 100% combed cotton jersey, this upper garment fits girls from 2 years old to 11. So as long as your flower girl can walk in confidence while scattering flowers in the aisle, it will not matter what age she is, because she will surely rock wearing this shirt.  This Flower Girl shirt simply makes for an adorable gift for the little girls at your bridal party.
These are cute Daisy Sunglasses for your Flower Girl.
You have your choice of sunglasses in 6 different colors, pink, white, green, yellow, blue, or peach. You can order just the sunglasses or you can add a personalized card or a personalized card with a gift box.
Gift Boxes are kraft material with white crinkle paper inside and are 7 1/4" long by 4 1/2" wide and 1 1/2" tall. It has a see through plastic window so you can see the sunglasses and card.  She will love flaunting her new floral shades.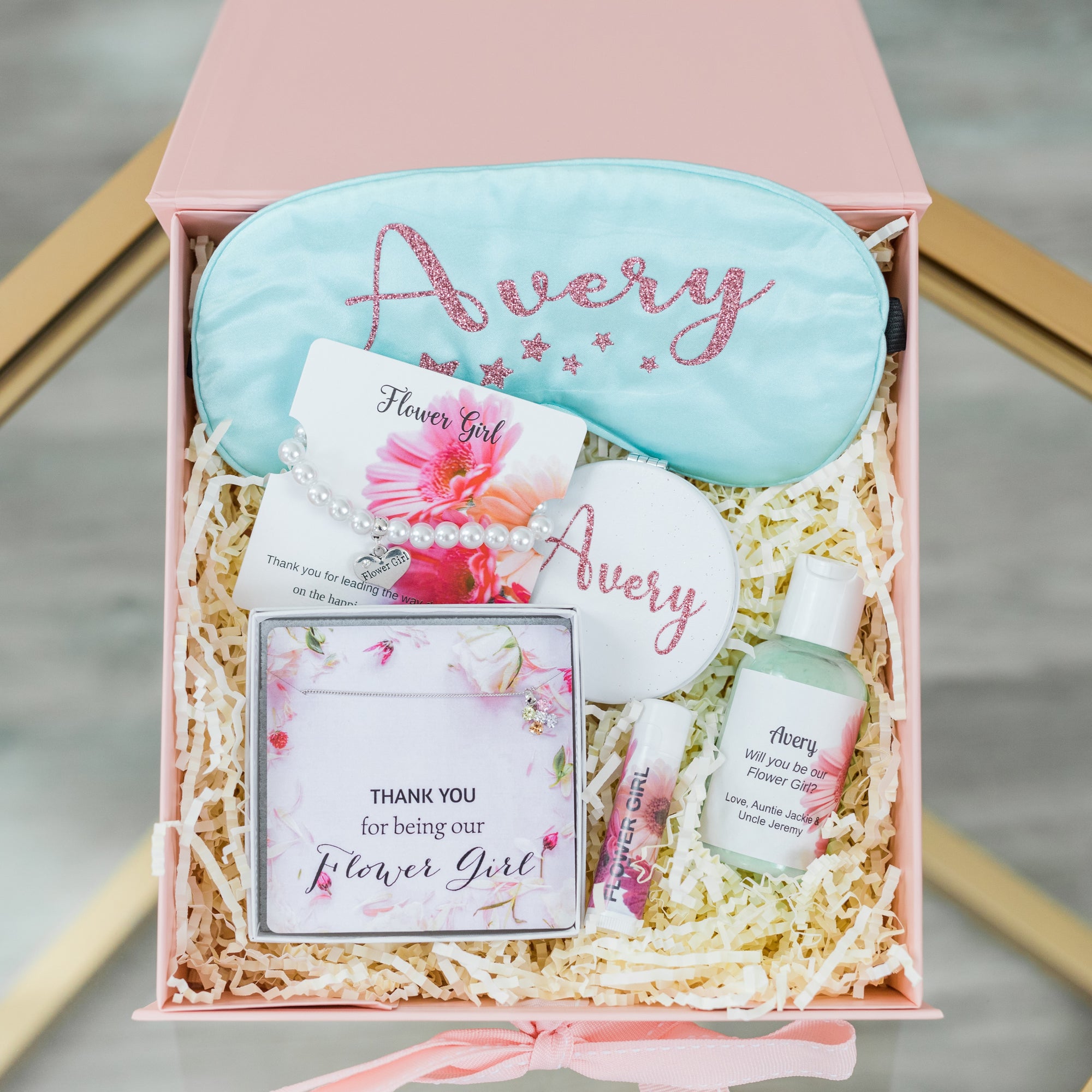 This customized gift box comes with your choice of a 4 oz scented lotion and cherry lip blam, a personalized adjustable beauty sleep mask, a pearl-studded bracelet with a flower girl charm, and a  18" sterling silver multi-colored floral pendant necklace.  Jewelry gift box and card are included with the bracelet and necklace. 
For many little girls being part of a wedding is a dream come true and this gift set is designed to make her feel special! Whether you're asking your flower girl to be a part of your special day or if you're thanking her, this flower girl gift set will make that special moment a memorable one.