With the winter season just around the corner, brides-to-be planning their dream winter weddings are seeking the perfect gifts to show their appreciation to their bridesmaids. From cozy accessories to timeless jewelry pieces, there are countless options to make their hearts melt. In this ultimate guide to bridesmaid gifts for a winter wedding, we will explore unique and thoughtful presents that will surely leave a lasting impression. Keeping the brand voice in mind, we understand the importance of finding gifts that reflect the style and personality of the bride and her bridal party. From elegant and sophisticated to trendy and fun, we have curated a selection of gift ideas that will suit a variety of tastes. Our top picks include personalized winter-themed mugs, luxurious cashmere scarves, and stunning snowflake-inspired necklaces. We know that finding the perfect bridesmaid gifts can be a challenge, but with our comprehensive guide, you can make this process a breeze. So, grab a cup of hot cocoa, and let's discover the ultimate bridesmaid gifts for a winter wedding that will leave your bridal party feeling loved and appreciated.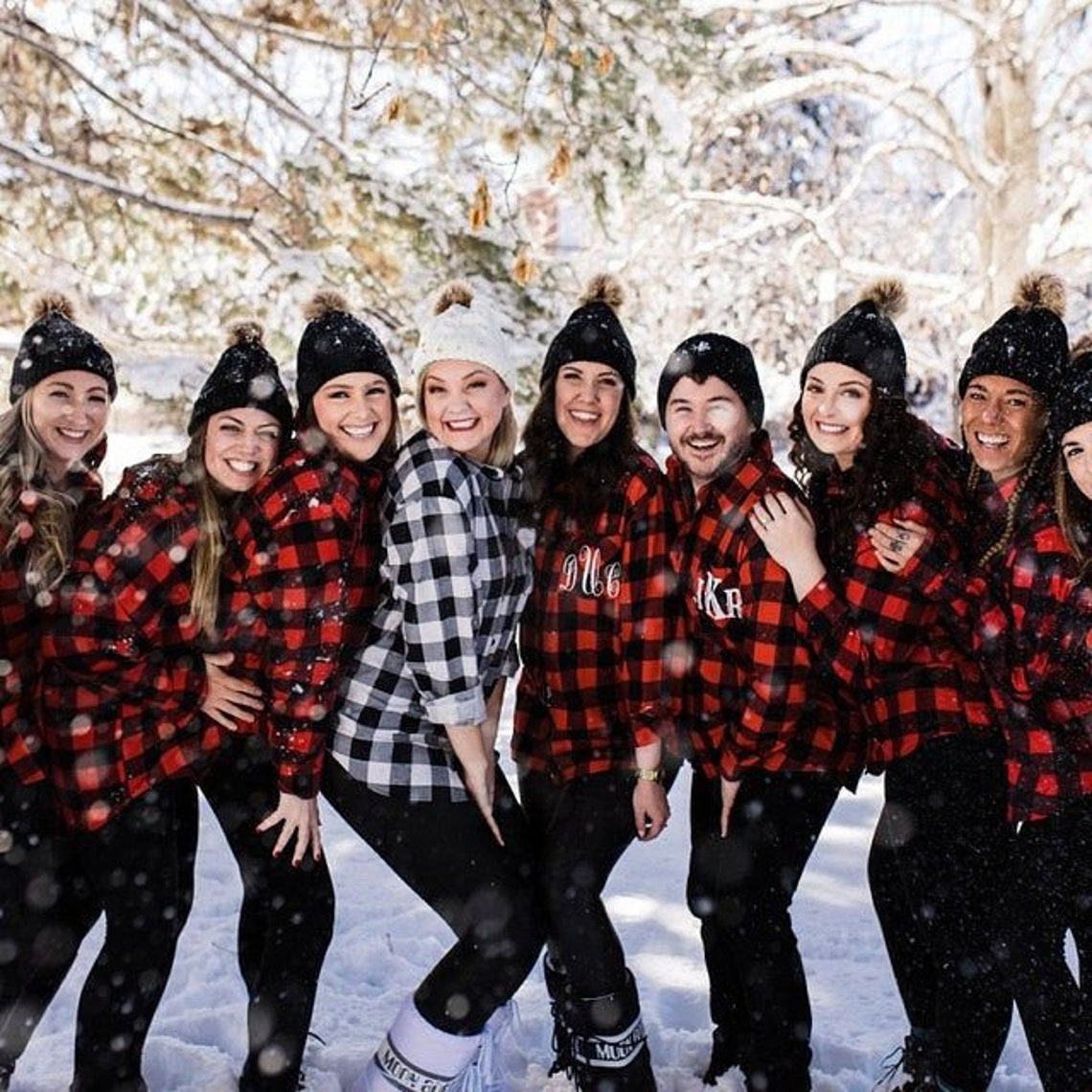 These are perfect for your fall/winter wedding to wear while getting ready and will make ADORABLE photos. These flannels are also perfect with leggings, boots, jeans and more! They fall a little longer in the back and are flattering on all body  types.  They come in several option colors and can be customized either on the front pocket or back.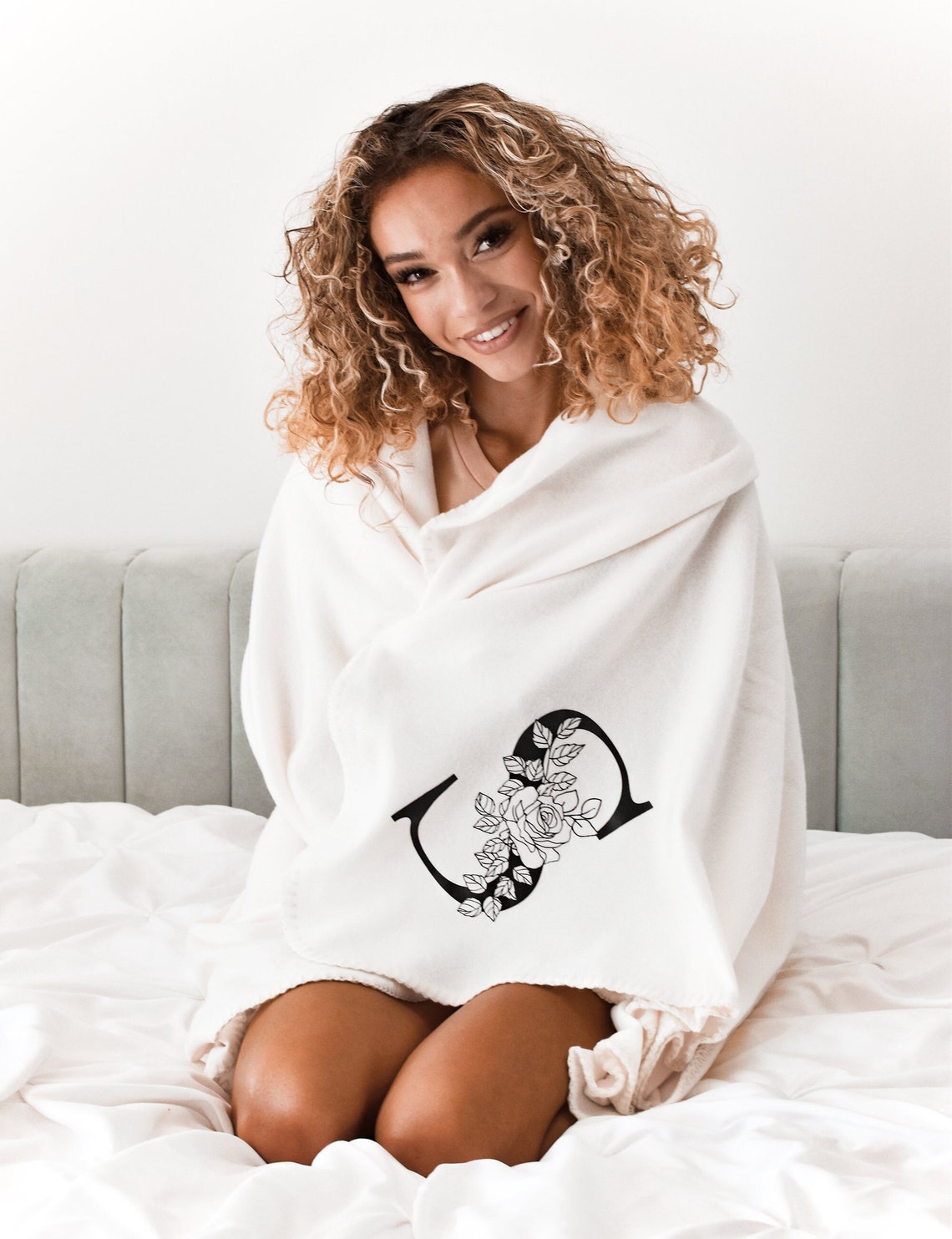 Your Bridesmaid will love to cuddle up to the warmth of this Floral Monogram Blanket.  Have her fleece personalized with a floral initial which will  make a cute gift for your bridal party this winter.  Each white blanket is personalized with a beautiful floral monogram of your choice.

Spoil your bridesmaids this winter with this elegant proposal box filled with all the things she will love and use. The gift box includes a pair of soft fluffy slippers, a personalized and insulated 12oz mason jar, a longsleeve satin pajama shirt and a scented candle.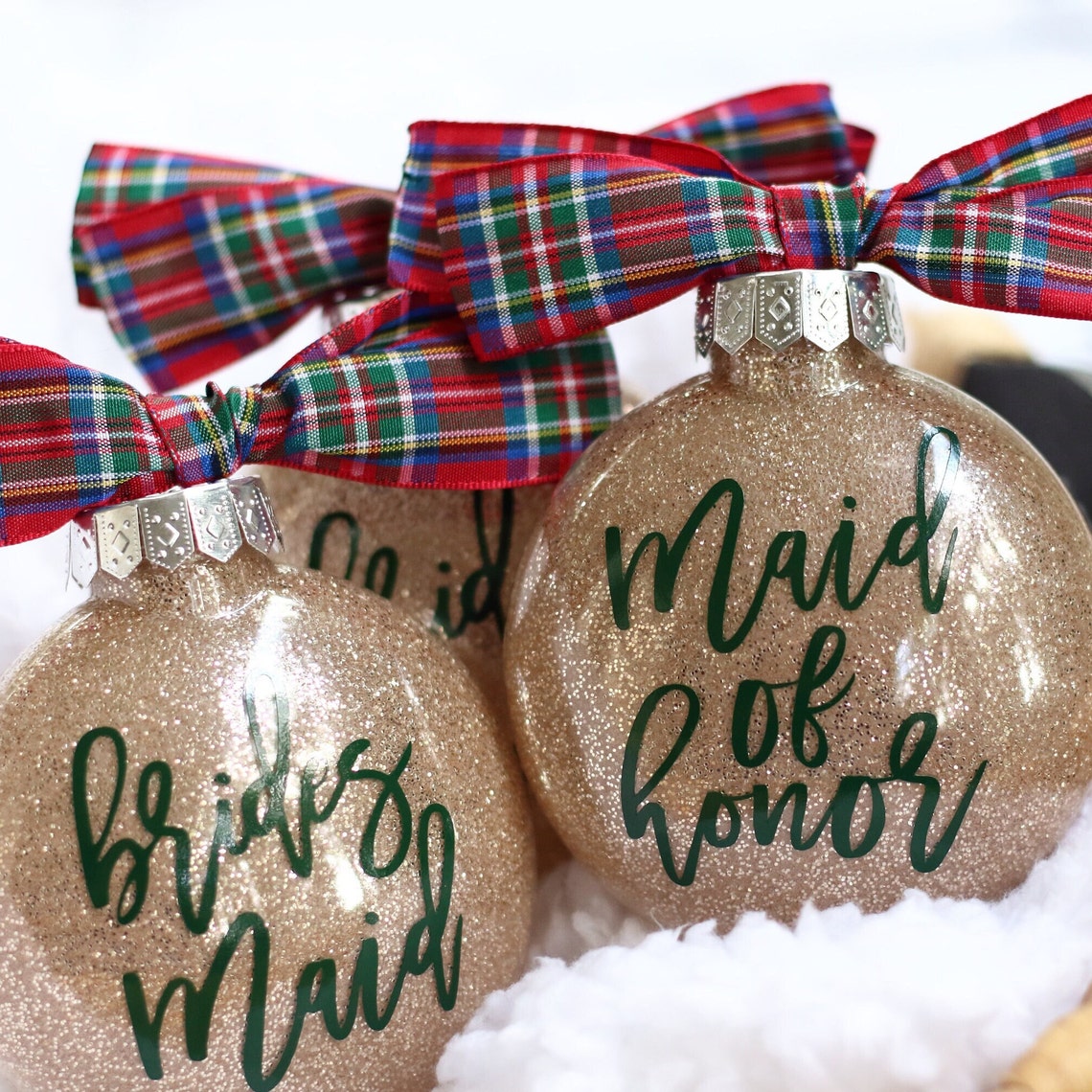 Looking to do a bridesmaid proposal? We are excited to bring a Christmas ornament for every occasion this season! These personalized Christmas ornaments make the perfect gift for bridesmaid! Give bridesmaid ornament gifts that they will use year after year! This bridal party ornament collection is budget friendly without compromising quality or style.  

If your bridesmaids love to look fashionable as always no matter what the season maybe, this Bride and Babe Beanie will let her go hiking, camping, doing outdoor sports or holiday traveling in style with this comfortable and fashionable beanie. This beanie comes with a soft pompom and is available in 3 colors: white beanie with a black bride patch, blush beanie with a black babe patch and a black beanie with a white babe patch. Your bridesmaid really can't stay but babe it's cold outside, so give her a gift that will keep her cute head toastie.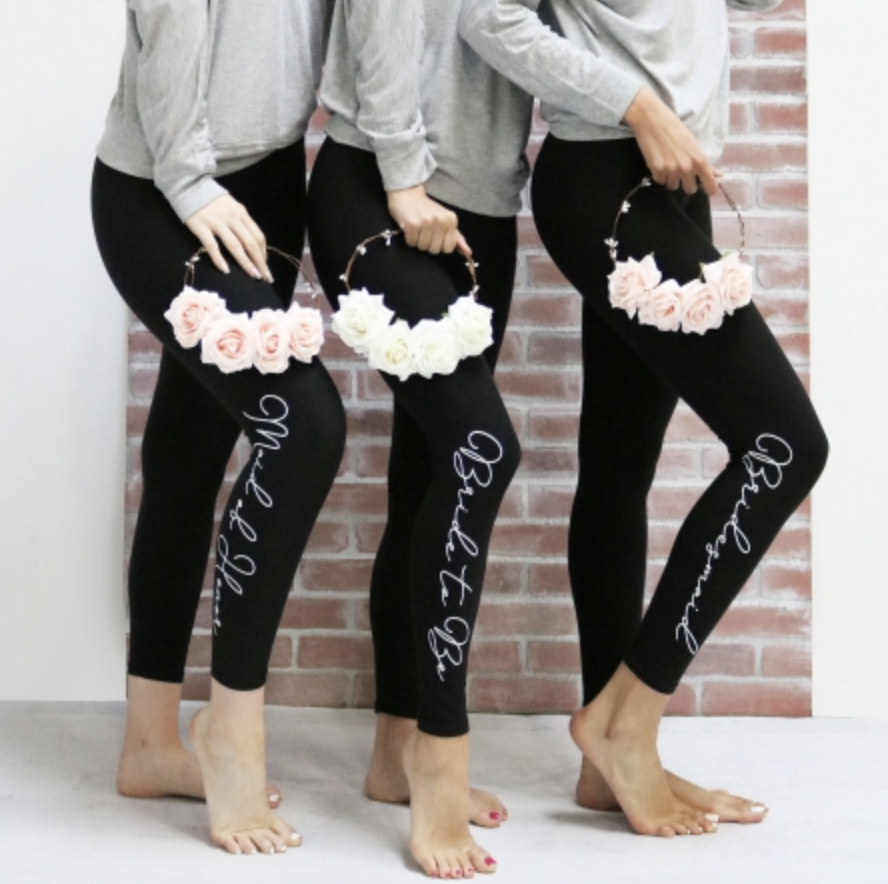 As a unique gift for your bridal party this winter, get them all these adorable labeled leggings that they can match with before the wedding! These leggings are so comfortable that they won't want to take them off! This is a great way to get all the girls excited for your big day.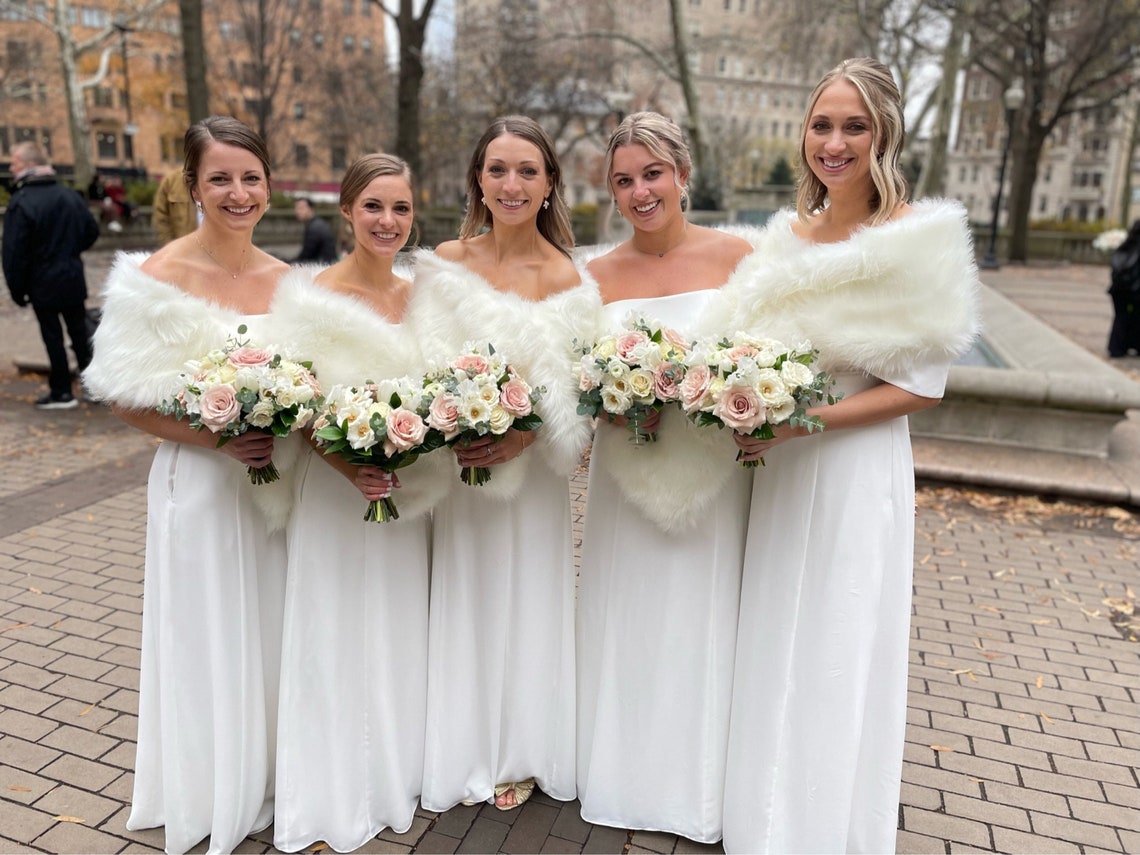 If you're having a winter wedding, your bridesmaids will need something warm and elegant to keep them warm.  A faux fur shawl will not only keep them warm, but it'll also make them fashionable.  
A beautiful and delicate snowflake pendant makes a great bridesmaid gift for a winter wedding and it's something your entire bridal party can wear the day of.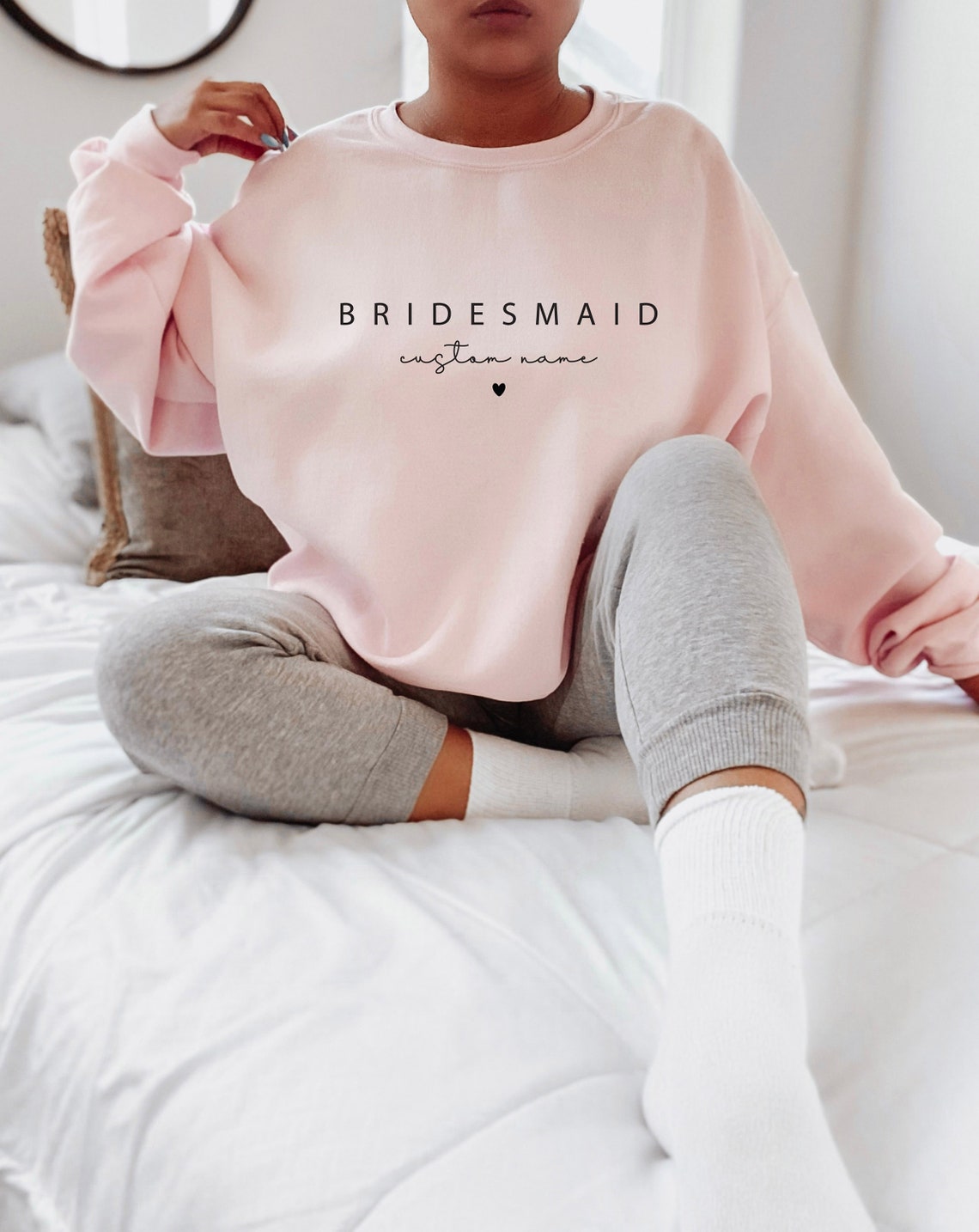 Looking for a fun and unique bridesmaid gift this winter? Look no further than these cute bridesmaid sweatshirts, availabe in 5 different colors! They're perfect for any pre-wedding festivities, from the bachelorette party to getting coffee with the girls a year later. Made from a soft and cozy fabric, it's sure to keep you comfortable and warm all day long. Plus, the cute and trendy design will have you looking your best no matter what the occasion. So go ahead and add this essential piece to your wardrobe - your girls will thank you for it!

These elegant Pearl circle Statement Earrings are the perfect addition to any special occasion! These earrings are the perfect gift to commemorate your wedding day with your best girls by your side. You can customize these to be used as thank you gifts or a special way to ask them to be a part of your big day at checkout! Each earring comes with a custom handcrafted story card, a box, ribbon and earring to make your proposal even sweeter. Your girls will continue to wear them long after your big day is over! They add a touch of warmth and elegance to any occasion. .

Snuggle up with your bridal crew the night before your big day with these warm and thick slouch socks. Have fun Creating a cute photo-op on your wedding day by dressing each of your bridesmaids in a unique pair of socks while you get ready for the big day with these thick, comfy & fashionable bridal party Slouch Socks.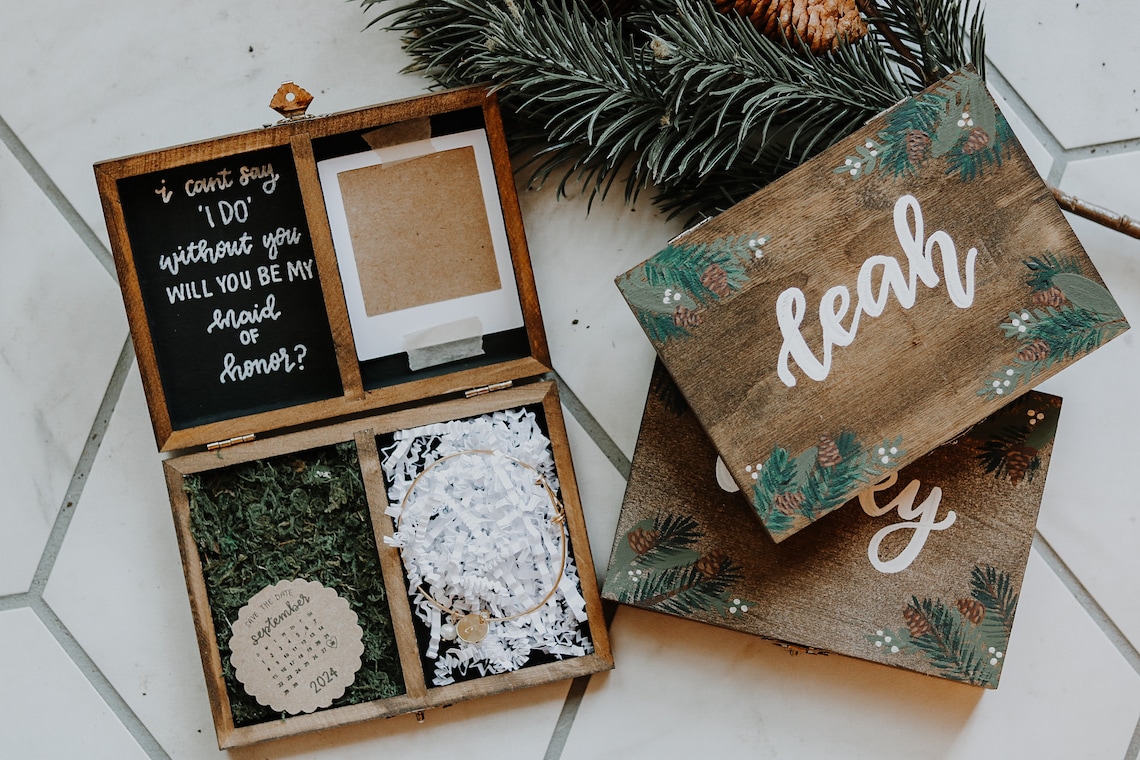 Ask your bridesmaids to be by your side as your bride tribe with this handcrafter winter theme proposal keepsake! This fun little keepsake is sure to get a "YES!" The bridesmaid proposal option includes a personalized bracelet or necklace with their name or initial, calendar card with your big day date, and the Photo pocket to slide a pic in. Each box is hand stained and painted especially for your girl so it can be customized including the text (i.e. Bridesmaid, maid of honor, junior bridesmaid, ect)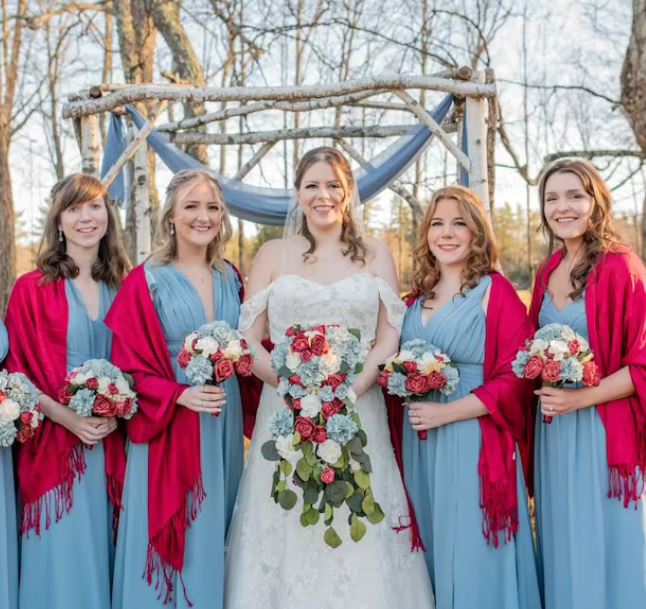 These pashminas can be an accent to any outfit and made with pure top-quality cotton. Pashmina shawls are elegant for evening or formal wear, and stylish for for any season and also can be casual wear too. Wrap a pashmina shawl around bare shoulders for a touch of late-evening warmth, or tie around your neck.Available in  colors.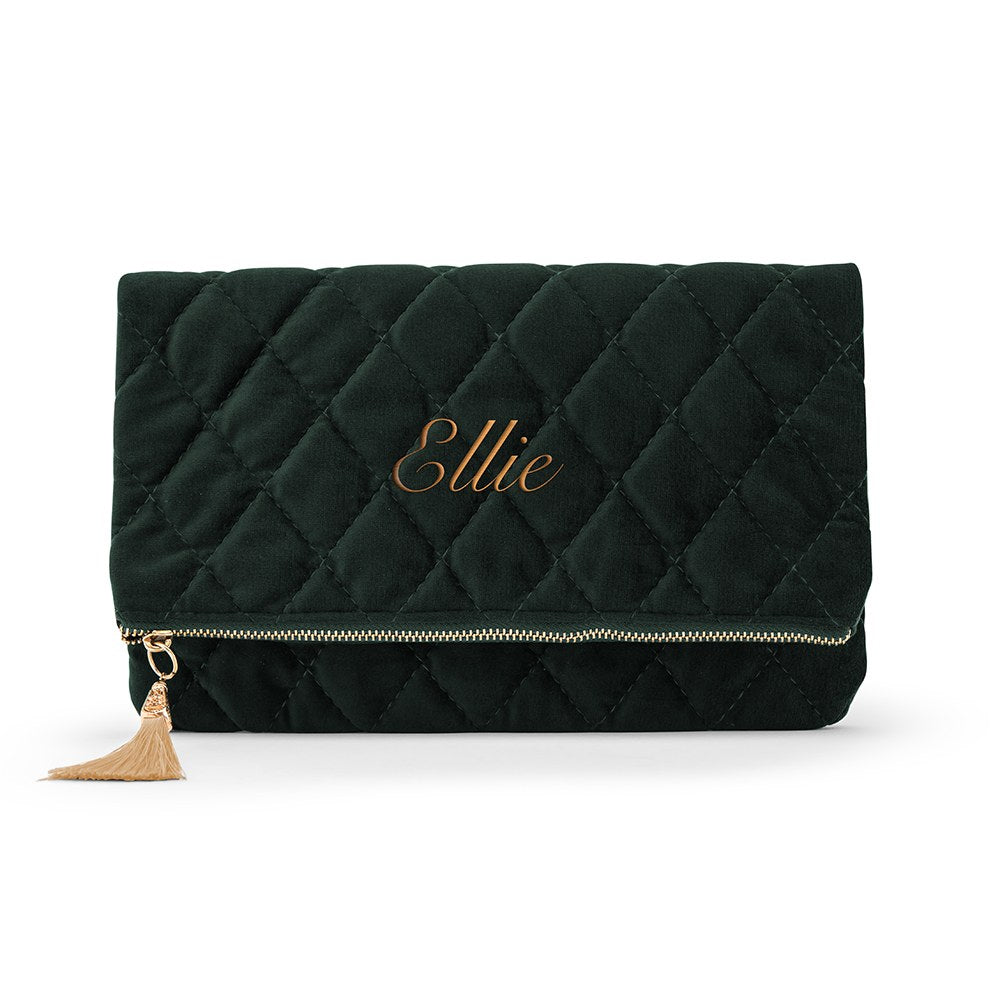 Rich in color and style, these diamond quilted fold over clutches can be a winter fashionable, affordable favor gift for bridesmaids to use on your wedding day. Bride, bridesmaid, or maid of honor, you can custom embroider the gem blue velvet clutch with a set of monogrammed initials, or a name to the evening bag accessory just for her. Made from chic, soft navy blue green velvet, the single pouch foldover clutch has a top zip closure with a cute gold tassel, and two magnetic snaps to maintain the attractive straight line fold.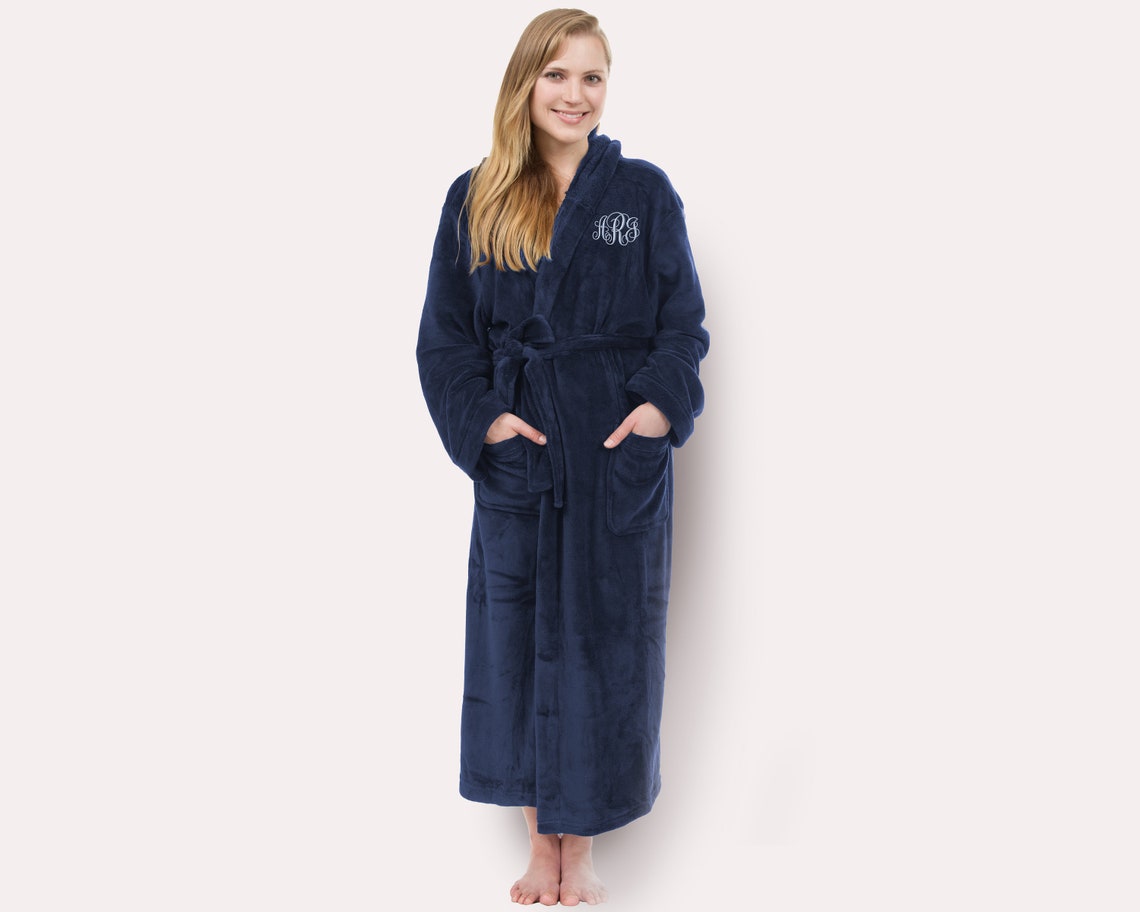 Fight off the chilly weather with our luxuriously soft and warm fleece robe! With the incredibly plush 100% poly fleece fabric, this robe is thick and cozy, making it wonderful for fall and winter weddings, holiday gifts, anniversary presents, and his/her gifts (or for just staying toasty and lounging around the house!!). Best of all, these robes feature a hood to keep you even more comfy and warm. You can customize each robe with her intials or wedding role. Available in  different colors.