Your bridesmaids are an important part of your special day, and you want to show them how much you appreciate their support and friendship. One way to do this is by creating the perfect bridesmaid gift box filled with thoughtful and personalized item. Here are 15 gift box ideas to inspire you.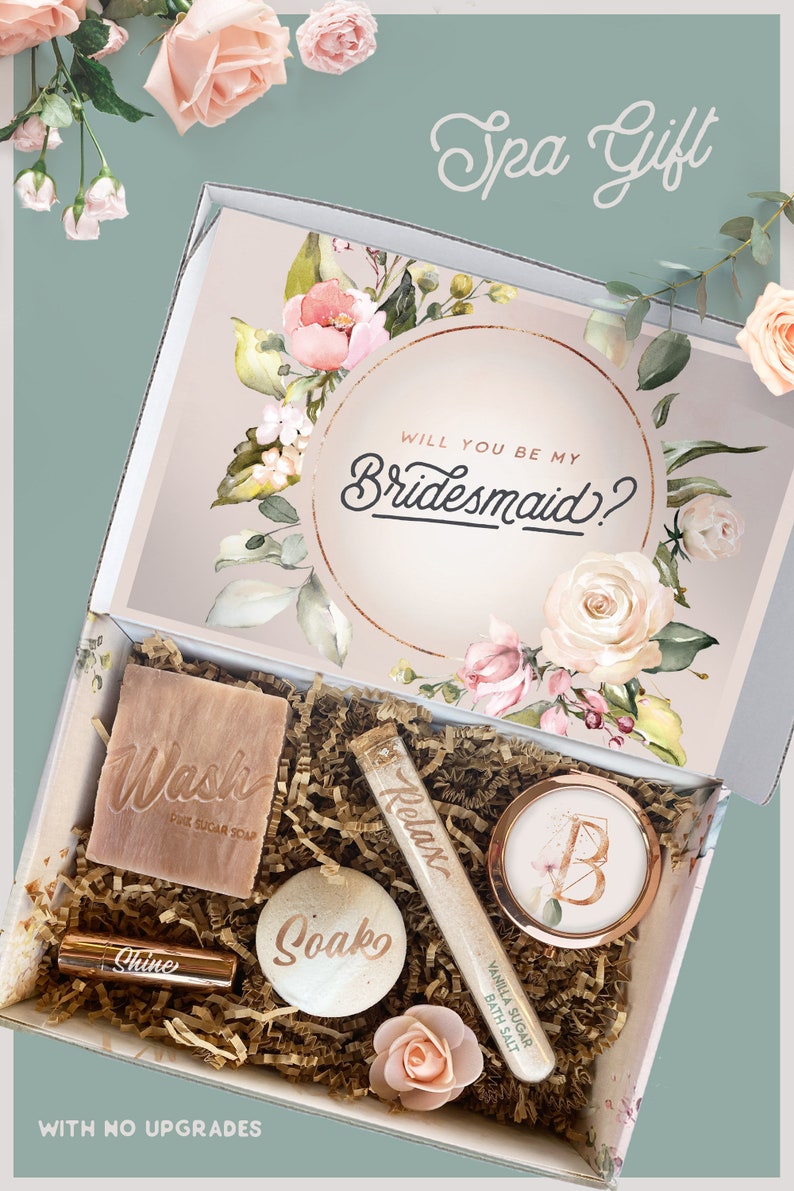 Your bridesmaids have your back. They've been with you through thick and thin. Now they're standing next to you on your wedding day. Propose to them with a relaxing spa gift set. Focusing on relaxation, shine, and glow, your girls will be revitalized for your big day, and thankful someone gifted them a gift of self care.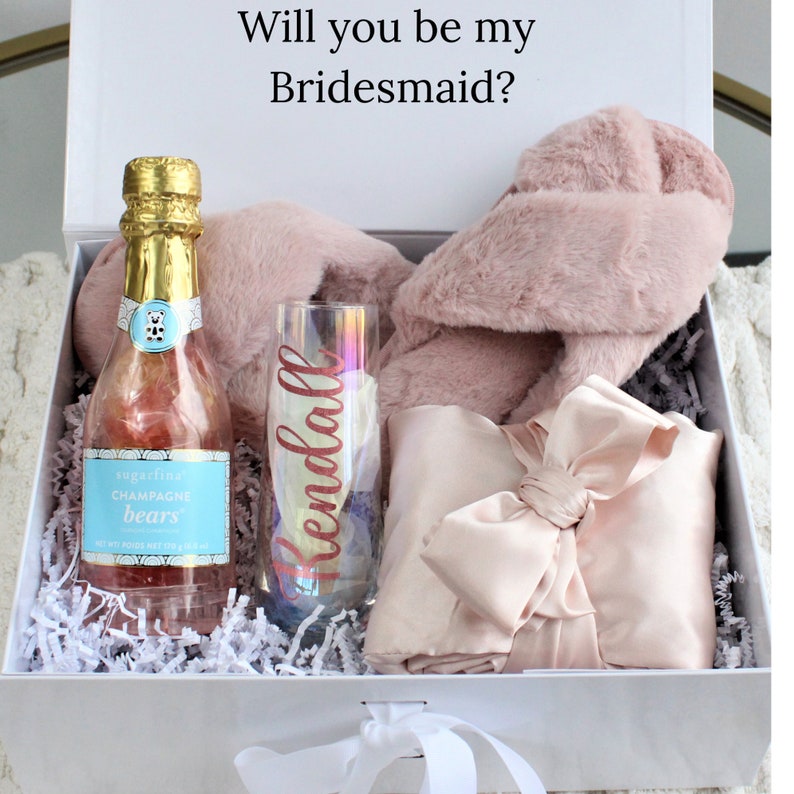 This Bridesmaid Proposal Gift Box will definitely make anyone in your Bridal Party feel extra special! It's time to pop the cork and make a toast! Filled with bubbly bear treats, and all your girls favorite items, this box has everything but the champagne.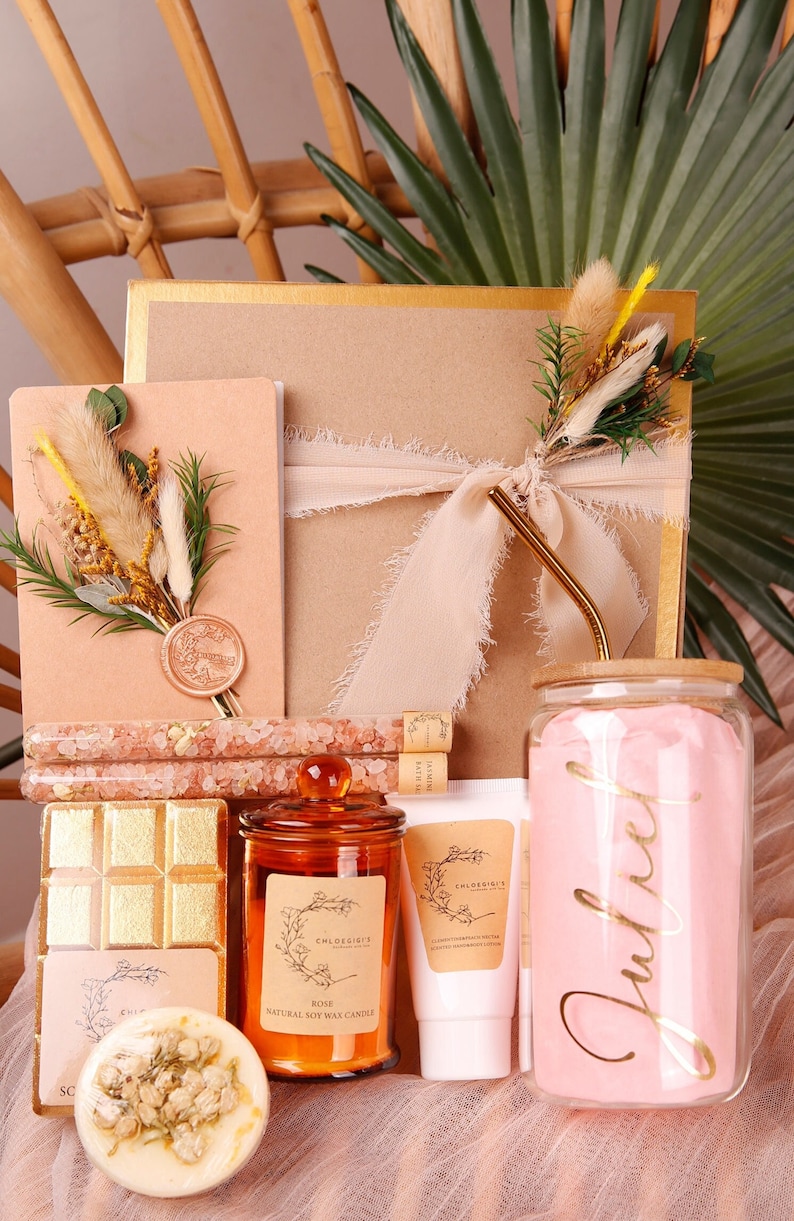 This is the ultimate gift set for a bridesmaid! Make your loved ones feel special by gifting them this beautiful set. This set features all natural handcrafted products for people you really care for. The elegance and thoughtfulness of this set is something your girls will love!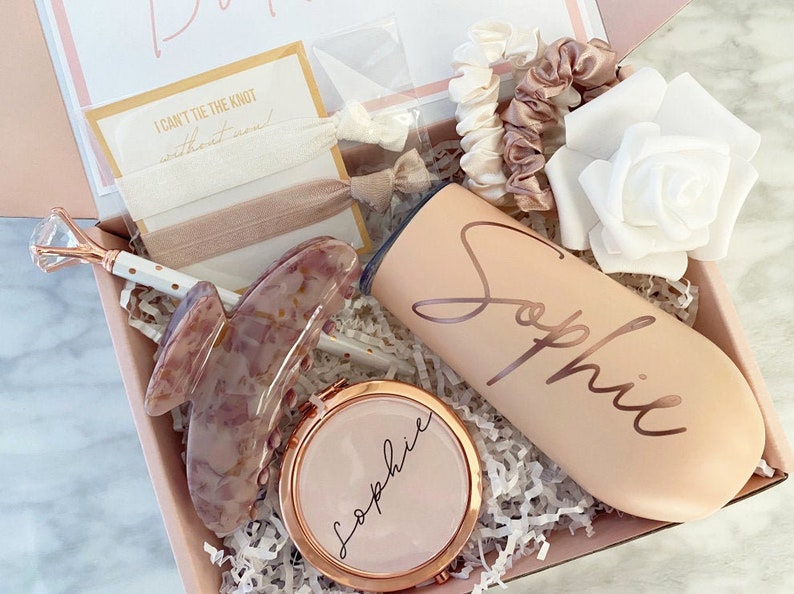 This blush set is beautiful and filled with items your bridesmaids will love. With the options to personalize the tumbler, compact mirror, and note, your girls will for sure feel special. The gifts in this set are practical and your girls will get lots of use out of them!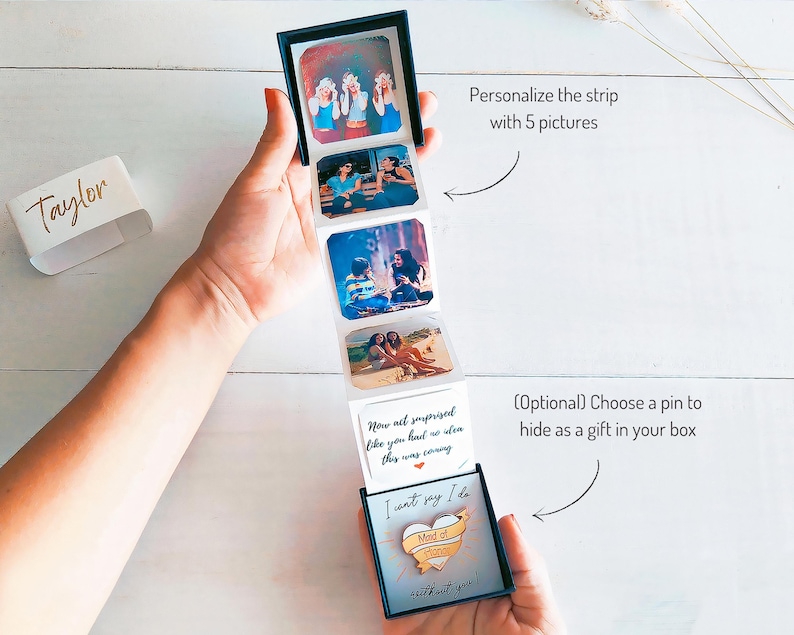 This bridesmaid proposal gift set is the perfect way to "pop the question" to your special ladies. When they see their name with the personalized sleeve of pictures, it will for sure bring a smile to their face. Unfolding the photo strip of picture you chose, will fill them with love and good memories. 
Looking for the perfect way to thank your bridesmaids? This extravagant bridesmaids gift box features a variety of stylish items to make your gift box one of a kind. You can choose from an elegant soft bridesmaid robe, a personalized wine tumbler, a personalized champagne flute, and a beautiful heart necklace. There's nothing like the bliss you will see on her face when you gift this luxury gift box to your bridesmaids!
Spoil your girls with this elegant gift as you ask them to join your bridal party. This bridal gift set is filled with practical gifts that your girls will love using. From a beautiful silky robe, personalized faux leather jewelry case, a cherry blossom candle- that says "I can't say I do without you." They will for sure love this special gift. 
This is the ultimate gift set for your bridal party squad. These cute gifts will add a touch of nature to any desk or counter. Each box comes with a succulent, hand poured soy candle, and a jar of matches. It also comes with a personalized note so you can let her know how much she means to you. 
This fun and unique gift box covers all ground! Relaxation (check,) Bridal Toasting (check,) Wedding Day Accessory (check,) and Sweet Tooth Craving (check!)
Indulge, indulge, and indulge your bridesmaids with this keepsake proposal gift set. Easily customize this gift box with a favorite photo and your girl's bridal role.  Then help her create a peaceful and relaxing evening with a warm invigorating bath bomb bath, by candlelight.  Lastly, spoil her with one of our finest satin lace robes and matching sleep masks as she's sipping some bubbly from an iridescent flute glass.  She will not only feel luxurious and fabulous but totally pampered without having left home! 
Something old, something new, something borrowed, and now something blue.  This stylish bridesmaid proposal gift box is full of her soon-to-be favorite things that will guarantee you a "YES!"  It can also be used as a thank you gift during the wedding weekend.  
Being a bridesmaid can be a huge commitment, show your girls how much they mean to you with this amazing gift set.  Make your ladies blush with this lovely pink Bella gift set.  You have the option of customizing your bridesmaid gift box with a soft satin or floral robe that may be personalized with a single initial, a heart pendant bracelet, a stemless champagne glass that features vibrant colors, and your choice of a scented candle. This full set is the perfect way to WOW your ladies, and show your love and gratitude for them as they walk with you on this exciting and once-in-a-lifetime day.
Now this is a gift box set that Rizzo, Jan, Marty, and Frenchy would most certainly be proud of!  Ditch the mundane bridesmaid and bachelorette gifts of your ancestors and think fun and exciting by Greasing the palms of your favorite girls with this combo.  Present this package of pink before your sock hop of a bachelorette party and all of your besties will be singing your praises.  
Show your bridesmaids how much you appreciate them with this engraved pink flask and accompanied pink shot glasses.  The flask can feature her name, wedding title, and special date.  The personalized touch creates a permanent finish that will last forever, making this a great gift that will serve as a memory or your big dar for years to come. 
Whether during the bridal shower or before that, giving a Future Mrs. Gift will be a delightful break from all her planning concerns.