Finding the perfect gift for a bride-to-be can be a daunting task, but we've got you covered with our curated list of the 15 best gifts. From elegant gift boxes filled with pampering goodies to personalized coasters and necklaces, these gifts are sure to make the bride-to-be feel special and loved.  Thoughtfully selected items that cater to the bride-to-be's interests and preferences Benefits: - Show the bride-to-be how much you care with a thoughtful and personalized gift - Help her relax and unwind during the stressful wedding planning process with pampering goodies - Create a lasting memory with a personalized gift that she can cherish forever - Make her feel special and loved during this exciting time in her life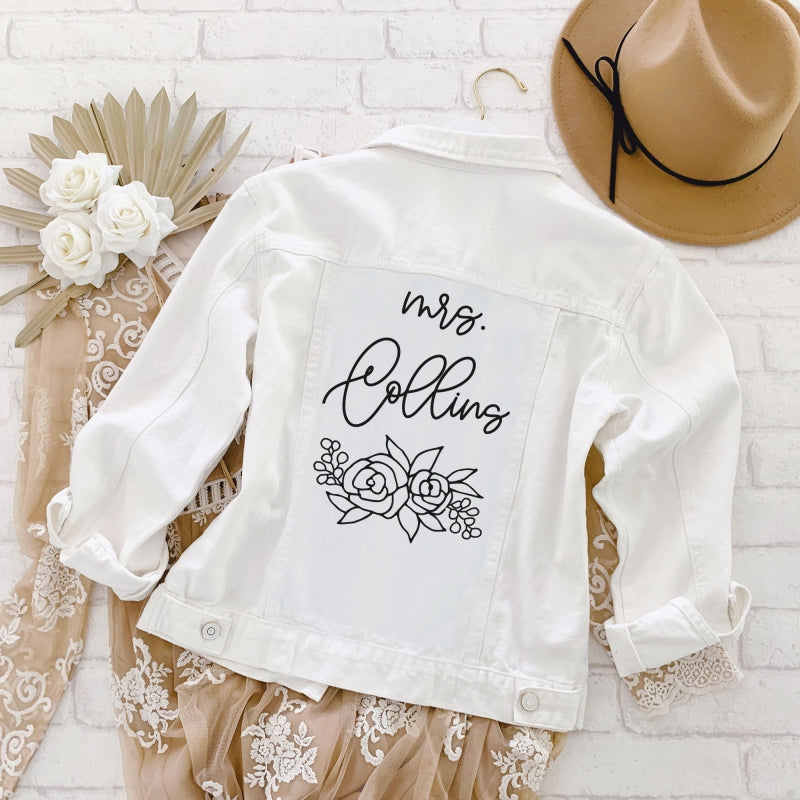 Personalized white jean jackets with a boho print make a cute bridal shower gift idea for the bride to be! She can show it off on her honeymoon & take the cutest pics at the wedding. Get some made for your bridesmaids with their names on them too for a cute bridal party pic at the wedding! Each white jean jacket comes printed with a black floral silhouette and personalized first name of your choice OR "mrs." and new last name.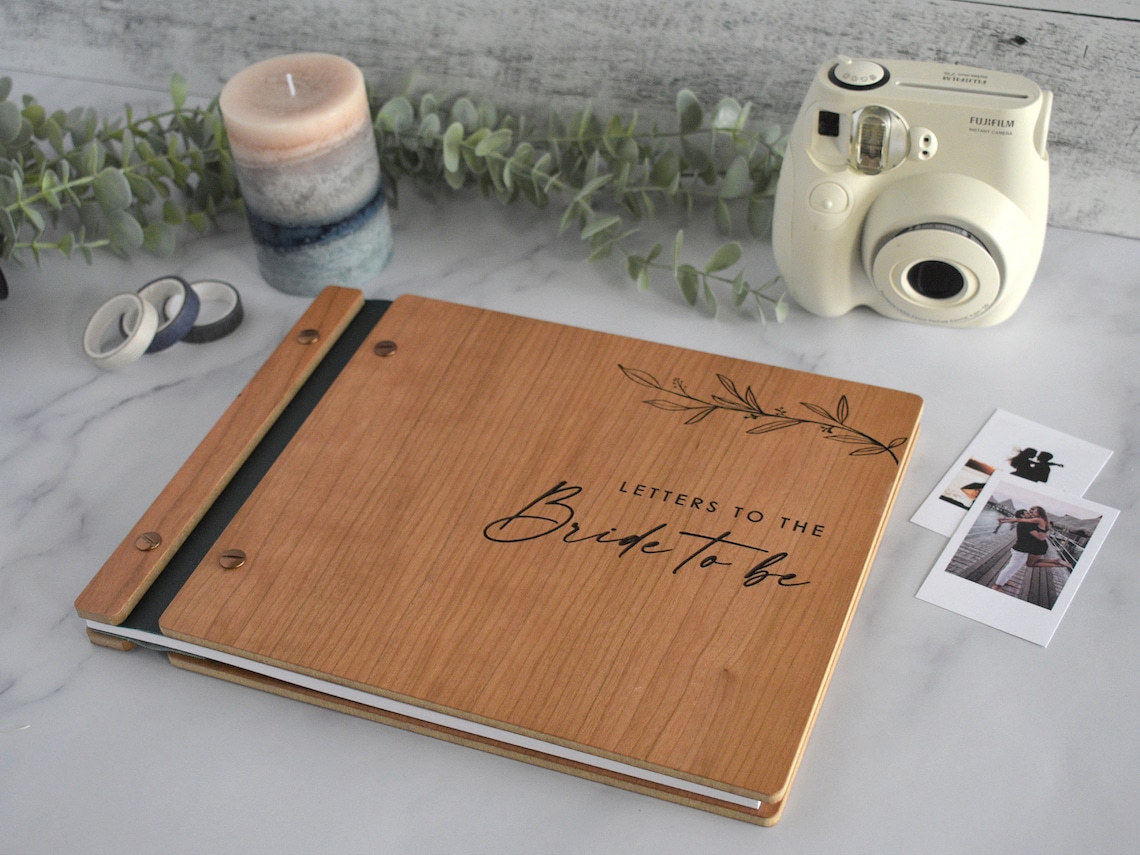 This is a heartfelt and unique way to gather messages and well wishes for the bride-to-be. This special book serves as a collection of letters, filled with love, advice, and words of encouragement from family and friends.

Whether during the bridal shower or before that, giving a Future Mrs. Gift will be a delightful break from all her planning concerns.  This beauiful luxurious set includes items she can use before and after the wedding.  This gift box includes a cotton lace robe with a matching sleep mask, a t-shirt with her future last name, a 10oz glass coffee mug with bride, a calming scented candle to help her relax with all the stressors of wedding planning and personalized note and faux diamond pen.  A perfect gift for every bride to be!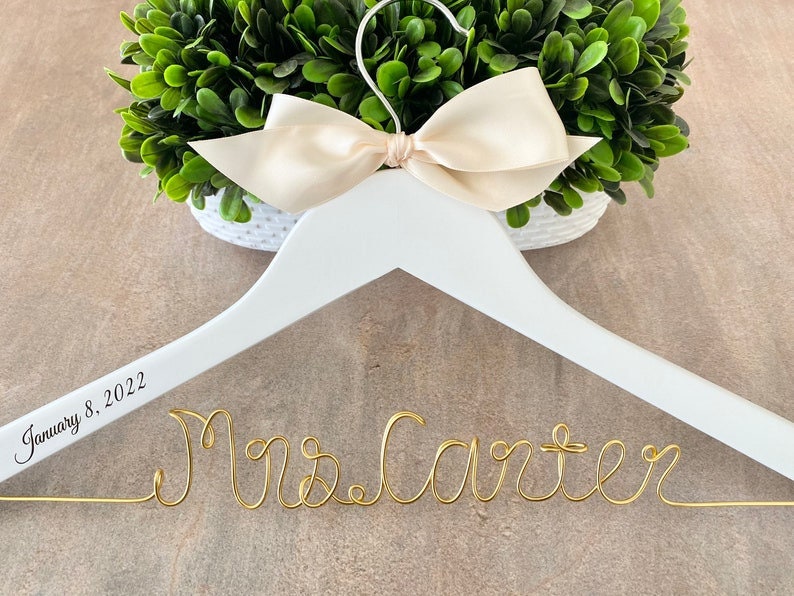 This customized wire bridal hanger are the perfect addition to her special day! Personalize her hanger with her wedding date, new last name and wedding colors for an unique wedding gift!  This hanger is made of solid wood to ensure it can hold a heavy wedding dress. Each letter is sculpted with aluminum wire to ensure your keepsake can hold its shape over time


This  personalized Mrs. necklace with her wedding date is one of our absolute favorite choices for the bride to be gift, and it'll be one of her new favorite accessories. The necklace can be personalized with any date, initials, and message.
The New bride will enjoy soaking in the sun on her honeymoom with this embroidered floppy hat. It's a perfect hat for the bride or bridal party on a sunny bachelorette girls weekend!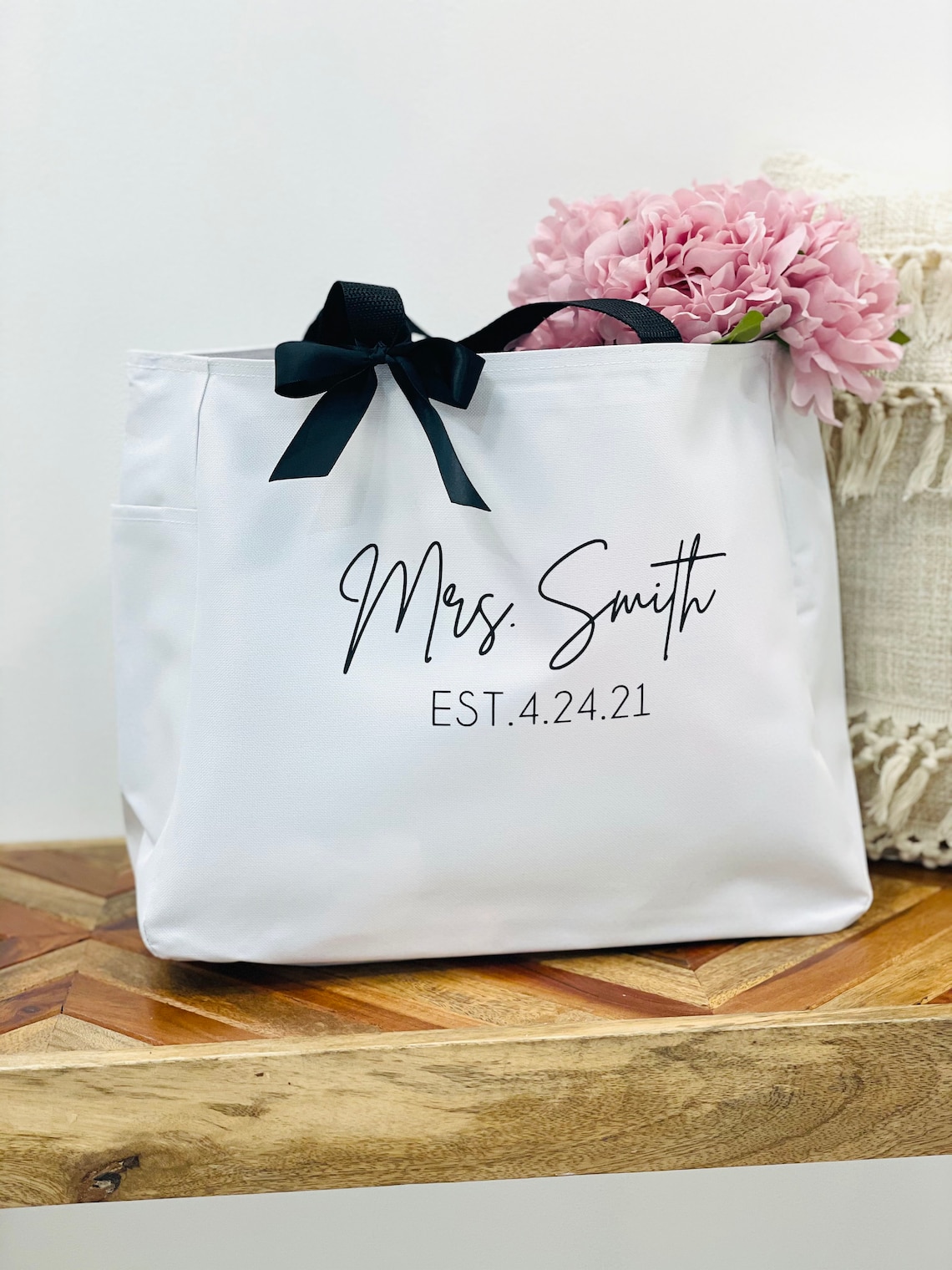 Gifting a personlaized tote bag is a gift she'll use again and again.   There are also a variety of sizes from which to choose, including beach and travel tote bags, weekender duffle bags and wine totes. The designs are right on trend, as well.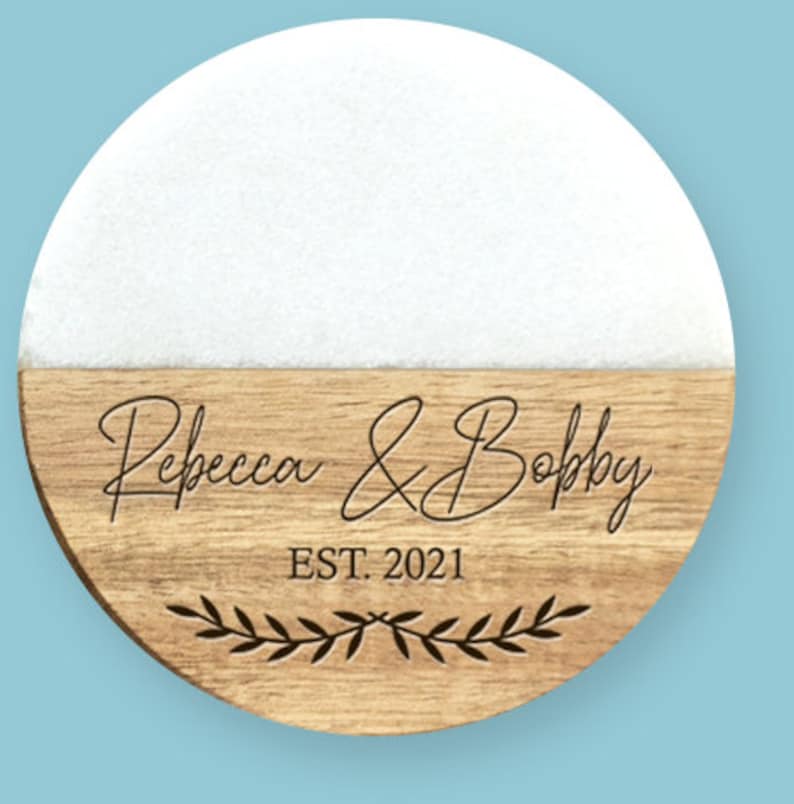 Personalized coasters are another practical and affordable gift for all occassions and something the newly engaged couple can use for years to come.  They also serve as a reminder of their special day.  Each coaster, will have a unique grain of wood, as no two pieces of wood are the same. The general grain will look similar to all pictures on their listing.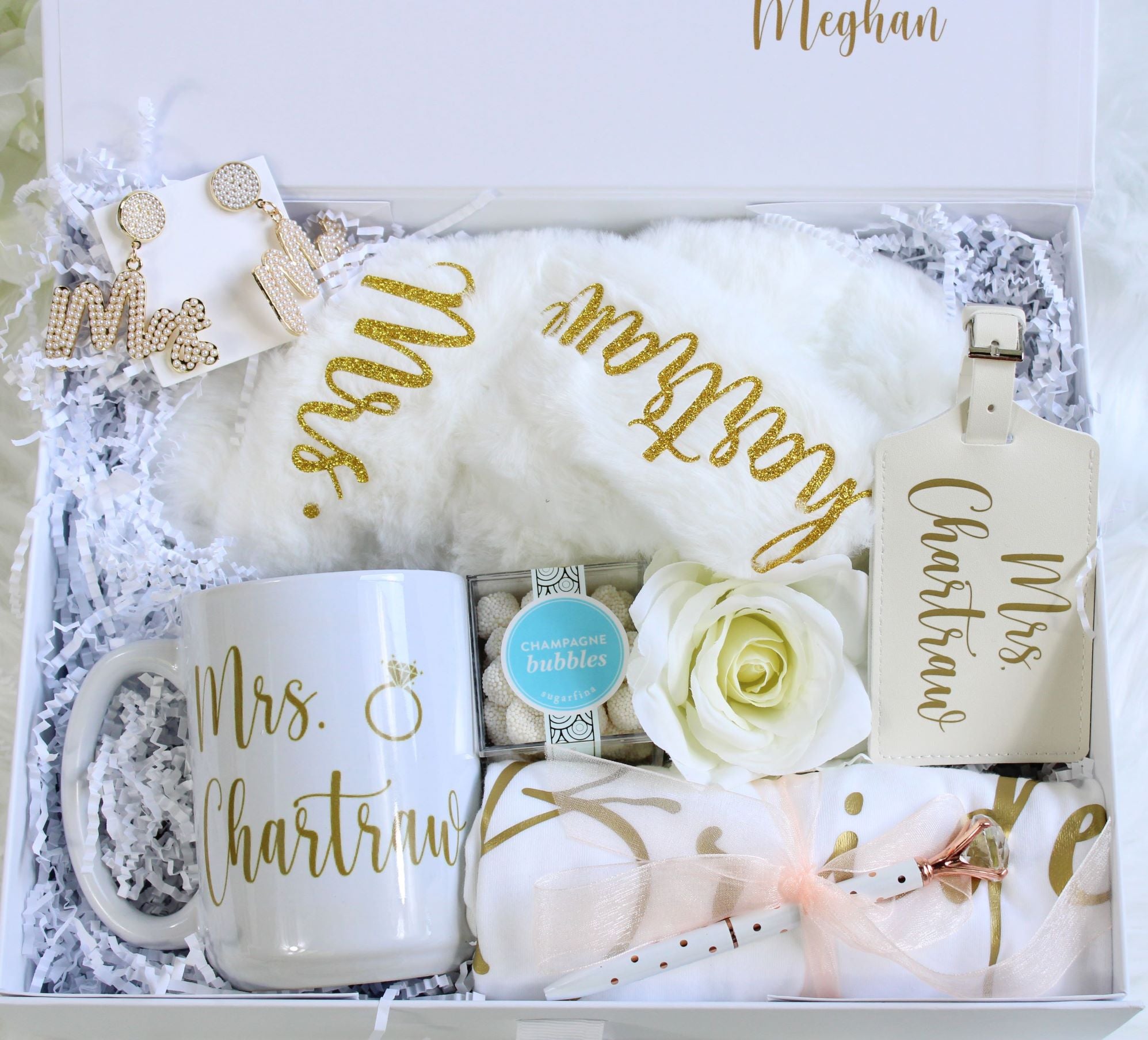 A perfect Gift for every bride to be!  Did your friend recently get engaged?  If so, the future Mrs. will ablsolutely adore this special gift box curated just for her.  This lovely Bride to Be gift set includes items she'll love and actually use! From customized luggage tag to faux fur slippers, she will absolutely feel the love.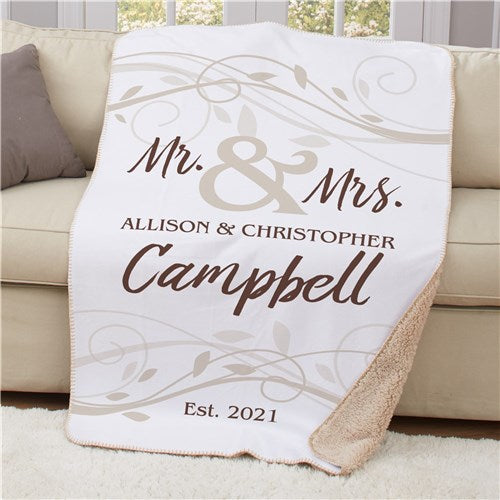 We all love receiving a gift that we can use for years to come, and that is why this personalized Sherpa Throw blanket is the perfect gift for the future Mrs/ newlyweds.  They'll make many memories together cuddling up under your thoughtful gift.  This Sherpa throw is  available in 3 colors: Tan& Cream, Silver & White, Blue & Grey, and personalized with names and year.

Give the Gift of a Peaceful Honeymoon: Planning a wedding is hard enough, but prepping for travel too? Help your favorite bride handle the challenge with this all-in-one travel kit; It provides a luxe hanging, foldable makeup bag plus 4 other helpful accessories; So, she'll always have her must-haves handy, no matter where she goes.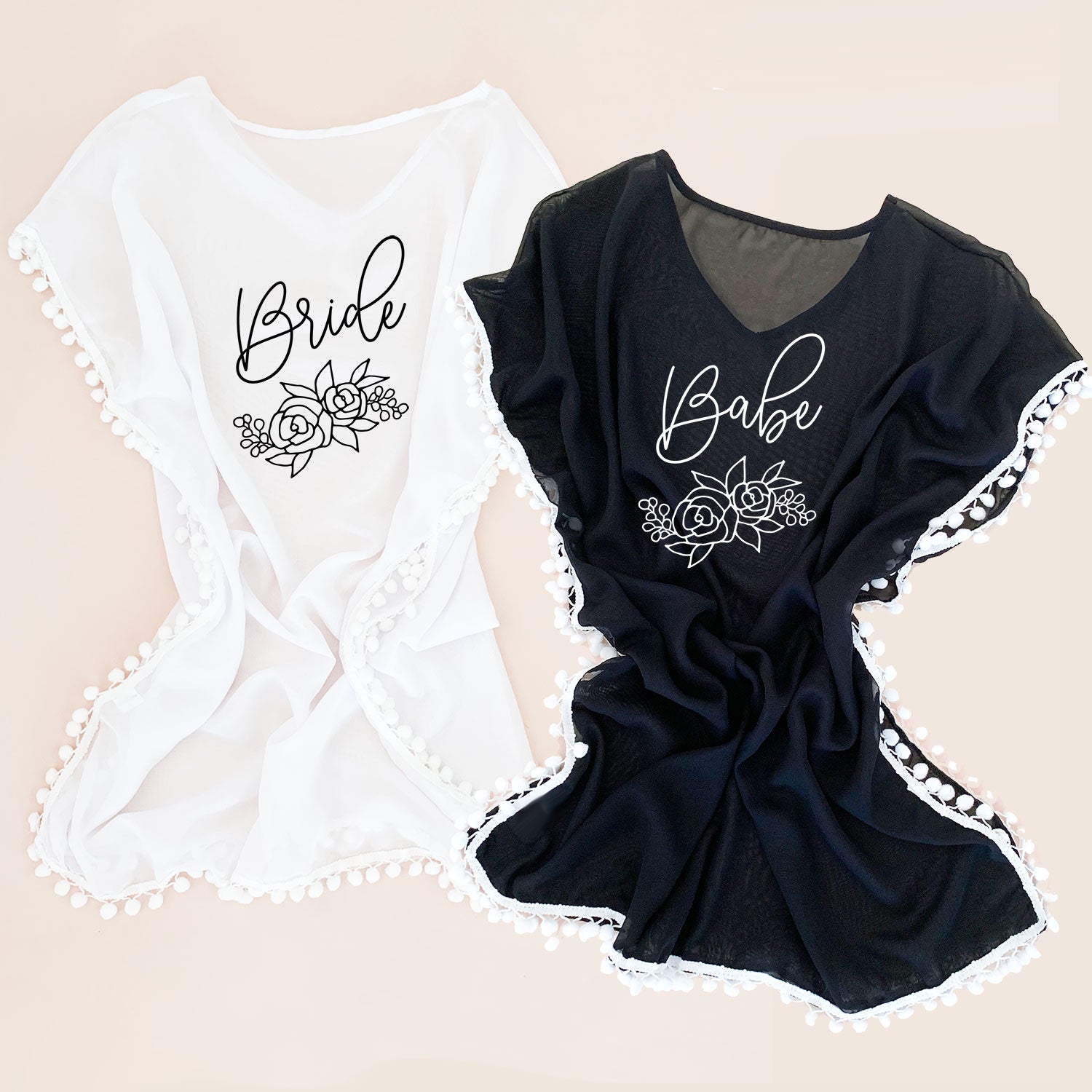 Bridal swimsuit cover-ups are the perfect addition to any bachelorette weekend!  Each swim cover comes printed with either white for bride or black with babe in a pretty script and a floral silhouette on the backside. She'll be able to show it off on her honeymoon, too!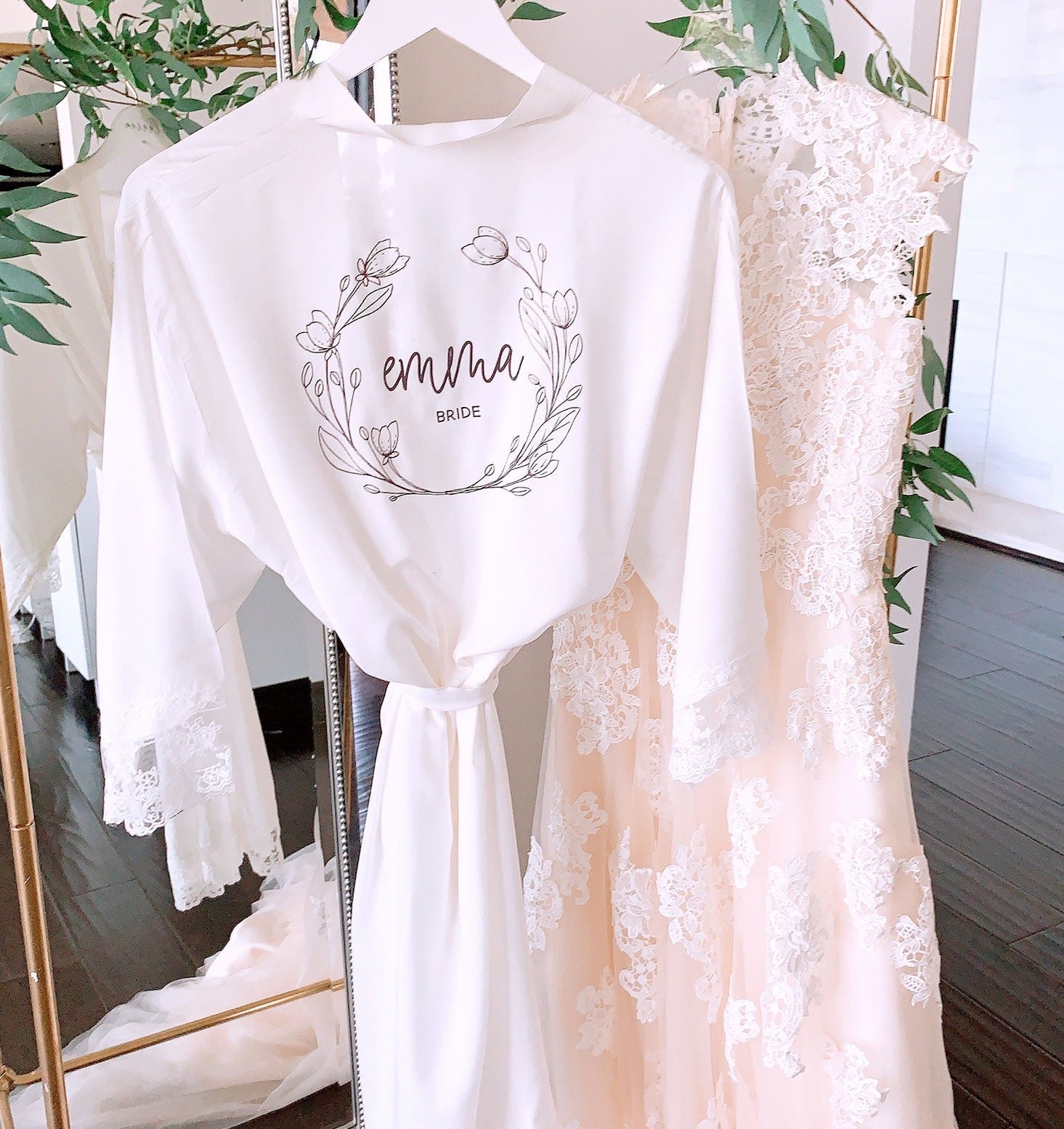 Each robe comes printed with a delicate wreath design in black text, her name, and title. he Love In Lace Robe is so luxurious, it'll make any woman feel like royalty the moment they put it on. That's what you and your wedding party deserve on your special day!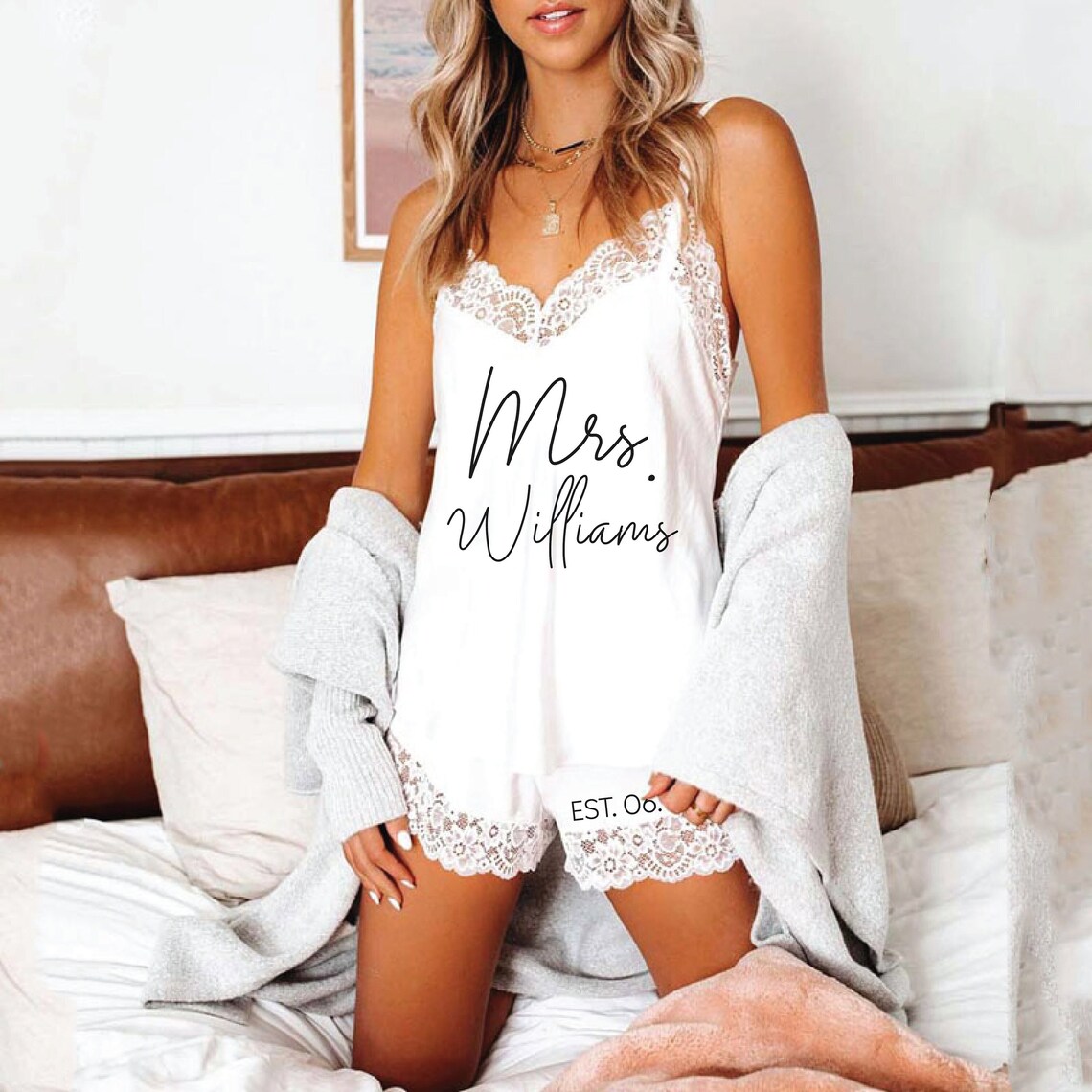 There are plenty of reasons to treat the bride to be to a special set of bride pajamas. They're perfect for cute getting-ready photos with her bridesmaids before the ceremony. Or, she can pack them for wedding night and honeymoon. This lace trimmed adjustable top that says "Mrs. (her last name)" on the front chest. The set also includes the pair of lace trimmed shorts that will feature; "EST. XX XX XX" wedding date on the left front leg as shown in listing photo.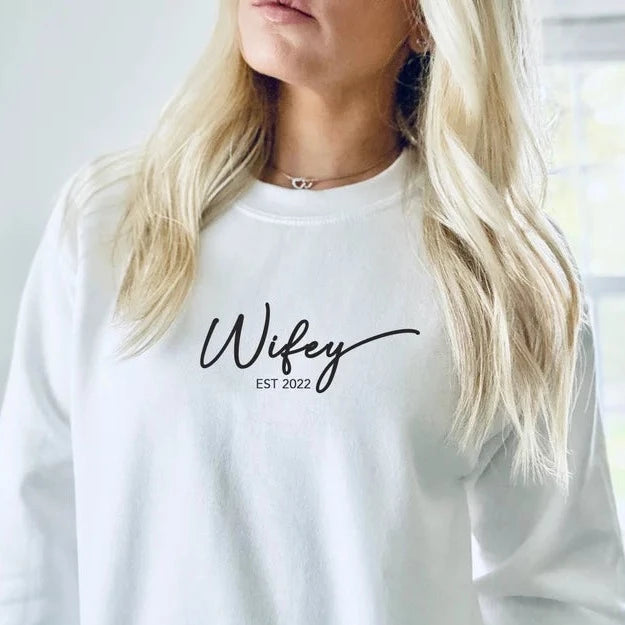 If you're looking for the perfect gift for the bride-to-be, look no further than the Wifey Sweatshirt! This stylish and comfortable sweatshirt comes with the year of your marriage printed on it, making it a truly personal and thoughtful gift. The Wifey Sweatshirt is perfect for wearing while getting ready on the big day, or even just around the house leading up to the wedding. It's sure to be a cherished keepsake long after the big day is over. So don't wait - order your Wifey Sweatshirt today!